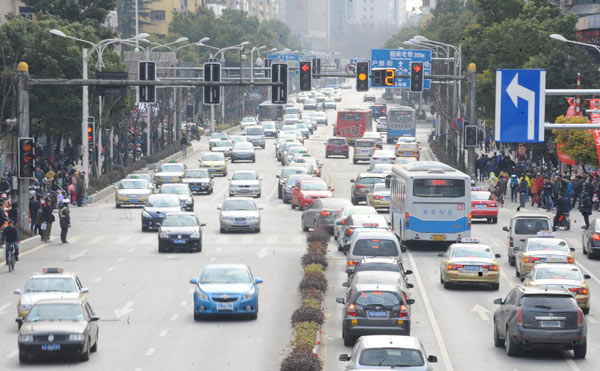 Vehicles pass crossroads as yellow light on in Nanjing, East China's Jiangsu province, Jan 2, 2012. [Photo/Xinhua]
BEIJING - A newly revised road regulation paid off on Jan 1, the first day it took effect, as many Chinese cities reported a sharp decrease in urban traffic violations, according to the Ministry of Public Security.
"On the first day the revised rules were in place, traffic participants in general followed traffic signs voluntarily, and common violations such as ignoring traffic lights and deliberately covering license plates were less seen," said a statement released Wednesday by the ministry.
Under the revision, ignoring traffic lights will result in six penalty points, double the previous punishment. The penalty for improper license plate display is now 12 points.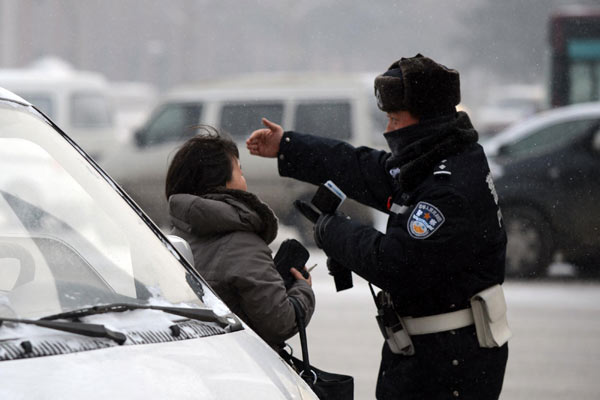 Atraffic police, right, talks to a driver running a red light in Changchun, Northeast China's Jilin province, Jan 1, 2012.  [Photo/Xinhua]
Each violation is associated with penalty points, based on the severity of the offense. If a driver receives 12 points in a year, he or she is required to attend a seven-day training session and take a written exam before getting back behind the wheel.
Moreover, 52 kinds of violations can result in penalties, up from 38 under the previous regulation.
The statement said traffic accidents that occurred Tuesday in five major cities - Beijing, Tianjin, Nanjing, Hangzhou and Jinan - decreased by 9.3 to 29.8 percent from the previous day, and no severe accidents due to ignoring traffic signals were reported.