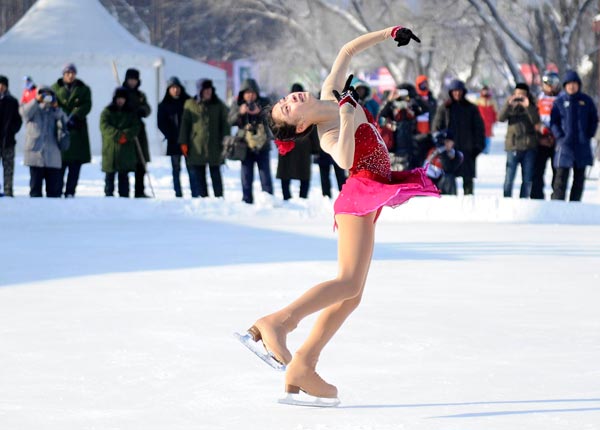 A figure skater performs at the 2013 Changchun Ice and Snow Tourism Festival in Jingyuetan National Forest Park in Changchun, Jilin province, on Wednesday. [ZHANG YAO / CHINA NEWS SERVICE]
The 2013 China Tour de Ski kicked off on Tuesday in Changchun, capital of Jilin province, which also embraced the opening of 2013 Changchun Ice and Snow Tourism Festival.
More than 10,000 participants and tourists from 32 countries and regions are participating in the event.
Professional skiers will compete in the seven-leg race whose routes cover Jilin, and the Inner Mongolia and Xinjiang Uygur autonomous regions.
Sources from the main organizer, Nordic Ways Vasa Management Ltd, said this year's race is the longest in its history. The men's and women's champions will be crowned close to the Xinjiang's border with Kazakhstan on Jan 11.
"The snow and ice that have hit China are popularly thought to be a bad thing for the economy. But the truth here is that it brings us joy and fortune in Northeast China," said Zhu Yejing, former mayor of Changchun, who brought the cross-country skiing event from Sweden to China more than 10 years ago.
Vasaloppet, or Vasa Race, a famous Swedish cross-country skiing race, is named after Gustav Vasa, a 16th-century Swedish nobleman who called on Swedes to oppose Danish rule.
Zhu said that the frequent cold fronts from Siberia this winter brought more snow and have ensured perfect conditions for tourists.
As standards of living improve, Chinese are paying more attention to leisure and health. Skiing is one way for people who enjoy the cold weather.
"We had few options for entertainment almost 10 years ago during the half-year winter. The possible choices included mahjong, dinning and karaoke. Skiing offers a healthier and more exciting choice," said Zhang Jian, a white-collar worker in Changchun.
Gavert Waag, board chairman of Nordic Ways Vasa Management, was the major driving force behind the event.
"I am so excited to see so many friends join us from around the world," Waag said.
The 62-year-old Swede came to China 15 years ago and became a legend by introducing the sport to the nation.
He said he hoped more people will participate in the event and China's Vasa will surpass the scale of Sweden's one day.
Contact the writers at wuyong@chinadaily.com.cn and hanjunhong@chinadaily.com.cn
Liu Yushi contributed to this story.