A cloud of sand obscured cars on the north bank of the Yarlung Zangbo River under the azure sky on Sunday at noon.
Had there been no bushes and fences preventing cattle from grazing, outsiders may have mistaken the sand hills near Lhotsan village, Nedong county, in Shannan prefecture, as part of a desert.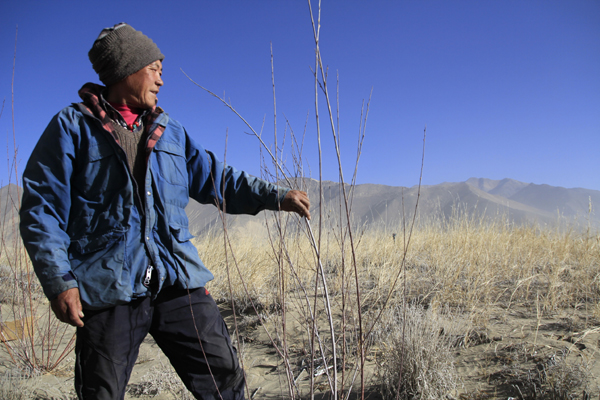 Genga Sonam, 59, a farmer at the north bank of the Yarlung Zangbo River in the Tibet autonomous region, stands on Sunday next to the land he is transforming. He has been hired by the local government to grow 20 hectares of brush and forest this year to fi ght the advancing desert. [PHOTO BY WANG HUAZHONG / CHINA DAILY]
Desertification in Shannan prefecture, the Tibet autonomous region, where there is little precipitation and an arid climate, has been "serious", according to local authorities. A total of 186,000 hectares have turned to sand in the prefecture, where the banks of the Yarlung Zangbo River suffer most.
However, locals have been working with the government since 2005 to build a green wall to contain and reverse the desertification process.
By the end of 2012, they have built a sheltering forest of 20,000 hectares, closed off 24,000 hectares so the vegetation can regrow, and fenced off 10,000 hectares of land to protect it from grazing.
Wells, pipes and irrigation systems have been built to "turn the sand beach into green land".
"The area used to be rough and barren. Though we haven't made outstanding changes so far, I'm still proud and happy about our efforts," said Zhou Kai, deputy director of the prefecture's forestry bureau.
"We can't match the power of nature nor change its manner. But we have to continue our efforts."
Genga Sonam, 59, a farmer in Lhotsan who cultivated 20 hectares of bushes and trees in 2011, said he is pleased to see the plants turning green in the summer.
He said more and more birds come to his bushes, and he even saw three deer coming down from the mountains to find food in the past two Julys.
"We were working, and then we surrounded the deer to watch them. We are so excited," said Sonam.
"The air has turned better, too. In the past, the sand in the wind was so heavy no one could keep his eyes open."