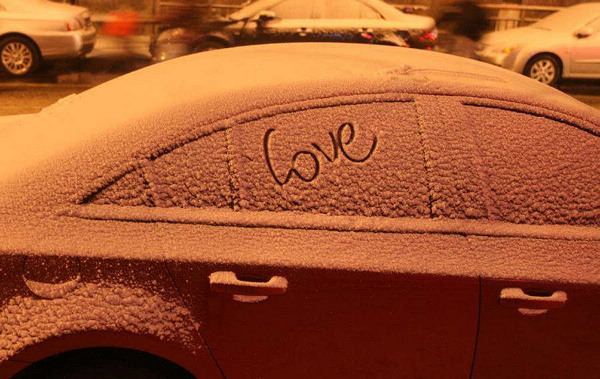 Photo taken on Dec 28, 2012 shows "Love" written on a car covered with snow in Beijing, capital of China. Beijing witnessed the 7th snowfall in this winter on Friday. [Photo/Xinhua]
BEIJING - China's National Meteorological Center(NMC) on Saturday maintained its blue alert for blizzards and a severe cold snap in the next 24 to 48 hours.
Eastern parts of northeast China's Heilongjiang and Jilin provinces, coastal areas of Shandong Province and northeastern parts of Guizhou Province will see heavy snowfall and possibly blizzards in the coming 24 hours.
Snow or blizzards will also hit parts of Hunan, Anhui, Jiangxi, Zhejiang and Fujian provinces. Central and western Guizhou will see freezing rain, the NMC forecast early Saturday morning.
Along with heavy snow, gales will chill these areas in the following 48 hours, with temperature drops of 6-12 degrees Celsius.
The observatory has advised residents to take measures to prepare for the upcoming snow and cold snap.