Director Andrew Dominik is possibly one of cinema's great stylists, a point that was made clear after the visually stunning, pretentiously monikered The Assassination of Jesse James by the Coward Robert Ford. That film was a languorous examination of myth and outlaw hero-worship with probably the most beautiful cinematography that year (by Roger Deakins). History repeats itself, for the most part, with Dominik's latest, Killing Them Softly. Also starring Brad Pitt (he played Jesse James), Killing is similarly enthralled with the machinations of crime, but this time around it's a modern version, free of the rose-colored filter of legend and history — and completely lacking in subtlety. Killing feels more like a near miss than a spot-on dissection of post-2008 financial desperation.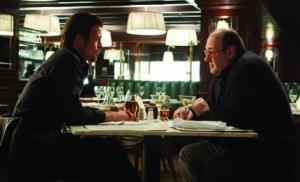 Jackie (Brad Pitt) and Mickey (James Gandolfini), just a pair of hitmen trying to divide their labor in Killing Them Softly.
The film's sprawling yet oddly intimate and highly verbose narrative hinges on an illegal poker game robbery. Two New Jersey mopes, Frankie and Russell (Argo's Scoot McNairy and Animal Kingdom's Ben Mendelsohn) accept a job to rob a card game that was hit just months before. The assumption is that the game runner (Ray Liotta) will be blamed and they'll get away with $30,000. But the big mob boys who really run the show know better and soon enough a shady executive (Richard Jenkins) puts a contract on them, calling in hired gun Jackie (Pitt) to handle the job. To say it all ends badly is stating the obvious.
What Killing Them Softly really aims to accomplish is draw a parallel between Mafia as America Incorporated and America as organized crime, equally single-minded in a quest for status, power and a fat bottom line. There's no question here: the film's opening sequences teem with obvious imagery of the shift from the egregious Bush years to the belt-tightening Obama years suggesting there's always someone with money and power to protect at the expense of the little guy. There is no subtext, there's just text. Jenkins' middle manager spends most of his time being lectured on trickle down and ultimate collapse of the local mob should the guilty — or the innocent — go unpunished for their infractions, chiefly threatening the status of the elite. Just in case you didn't get the point in the first five minutes there's constant chatter about recession fees for hit men.
Killing Them Softly doesn't quite come together as a whole, but what does work works really well. Because the themes are made so explicit so early, viewers can sit back and bask in the glow of an incredible tonal and visual construction and a remarkable palpability to Dominik's rendering of the unglamorous side of organized crime — one that would rival Martin Scorsese at his best. McNairy and Mendelsohn make Frankie and Russell two of the most vivid losers to grace screens in some time, with their constant twitching, sweating and desperate, half-cooked ideas. Liotta (playing against type) and The Sopranos' James Gandolfini, as a sub-contractor with domestic issues that are affecting his work, bring a level of quasi-tragedy to characters that could have been bland archetypes. The performances are complemented by a grimy, broken-down production design that telegraphs what Dominik wants to say just fine. He really could have left the mallet at home.
Killing Them Softly opened in Hong Kong on Thursday.