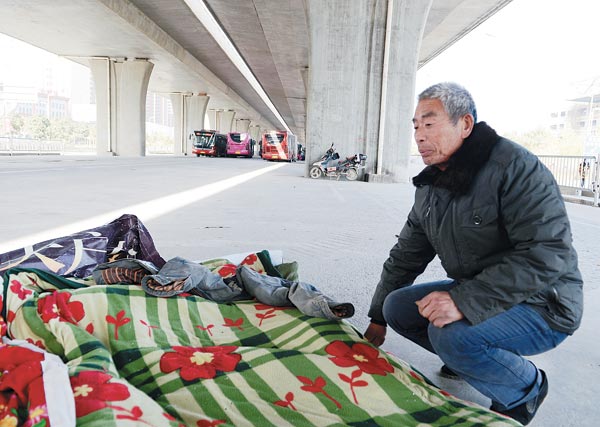 Zhu Yunyou, a migrant worker, unfolds a quilt under an overpass where he lives in Zhengzhou, Henan province, on Monday.[Xiang Mingchao / China Daily]
Even though the weather is getting cold, migrant worker Zhu Yunyou has to sleep beneath an overpass because he cannot afford renting an apartment in the downtown area.
Zhu, 61, from a village in Yuanyang county, Henan province, went to the provincial capital, Zhengzhou, to seek a job after harvesting the crops in his hometown three months ago.
Zhu didn't know where the city's job market was and had to stand along the road with a board stating: "Seeking short-term jobs".
There were not as many employers as he expected — he earned less than an average of 1,000 yuan ($161) each month, which is not enough to cover the rent of a one-bedroom apartment in the city.
Unable to rent a house, he has to sleep beneath an overpass near the road where he seeks jobs every day, covered with the quilts he brought from his hometown.
There is no tap water and Zhu has not washed his clothes or taken a shower since he stepped into the city.
It has become more difficult for him to get by at night — the weather is colder than before and the wind "penetrates the bones".
He does not want to join construction teams like many other migrant workers do, because he was cheated by a construction team leader who refused to pay his salary of half a year.
However, Zhu is not alone — at least 20 migrant workers sleep under the same overpass with him.
Migrant workers and homeless people living beneath the city's overpass have attracted the public's attention after a migrant worker died below an overpass in Zhengzhou on Friday.
The cause of his death remains unclear, but the local Henan Business News quoted another migrant worker as saying that he had slept there for nearly a month and developed symptoms from the cold before he died.
He refused to go to a hospital for fear of high medical costs when an ambulance came twice to pick up him, said the report.
A female official from the publicity department of Zhengzhou civil affairs bureau said she knew nothing about the migrant worker's death and she refused to comment on the issue when contacted by China Daily on Monday.
Many netizens expressed concern over migrant workers who live under overpasses, and some netizens called on government to do more to help them.
Zhou Junfan, head of Pingdingshan Volunteer Association in Henan province, worried about the dead migrant worker's family members.
"His family must be very poor since he could not afford medical treatment, so how can his wife and children get by in the future?" Zhou said on his micro blog on Monday.
Huang An, a renowned singer who has more than 700,000 followers on his micro blog, said on Monday that he is going to donate jackets to people living below overpasses in Zhengzhou this weekend.
Shao Peng, 35, a migrant worker who came from the same county as Zhu Yunyou, said that he had to stay in Zhengzhou to seek jobs since the flood of the Yellow River destroyed all of his family's farmland.
Shao did not tell his family about his current situation.
"If my wife knew that I am sleeping here, her heart would be broken," he said.
He even got angry when a photographer tried to take his photo.
"If this place was exposed by the media, the government officials might come and force us to leave," he said.
Both Zhu and Shao refused to go to the local rescue station to seek help, since the station only provides sleeping places for 10 days, and after that they have to be sent back to their hometowns.
"We are coming to the city to seek jobs, and we don't want to go home before Spring Festival," Shao said.
Other cities
Apart from Zhengzhou, there are also many homeless migrant people in many other cities.
Wang Shouquan, a 90-year-old homeless man in Liaoning province, had to sleep in front of a medicine store in Shenyang, the provincial capital.
Wang had to beg in the city during the day and sleep in parks, passageways and unfinished buildings.
"All of my clothes were donated by kind-hearted people, and a girl gave me these earmuffs," he said on Monday.
He used to seek help from the local rescue station, but he was sent back to his hometown in Lingyuan county several days later. He could not make a living in his hometown and had to go back to Shenyang afterward.
Contact the writers at xiangmingchao@chinadaily.com.cn and anbaijie@chinadaily.com.cn
Liu Ce in Shenyang contributed to this story.