URUMQI - Snowstorms forced the closure of an airport in Urumqi, capital of Northwest China's Xinjiang Uygur autonomous region,  Monday, leaving 70 flights diverted, cancelled or delayed.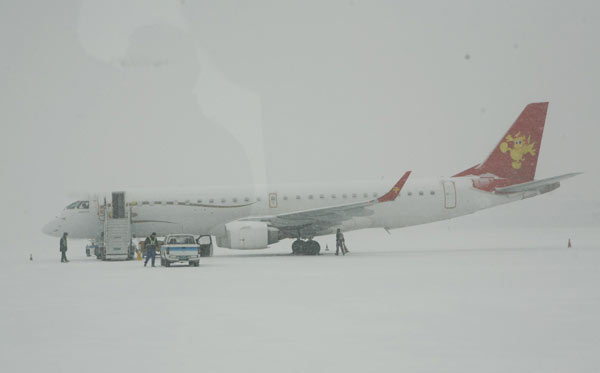 A airplane stops at the parking apron covered by snow waiting for passengers to board at the Urumqi International Airport, on Dec 3, 2012. [Photo/Xinhua] 
Snow continued into Monday night and staff at the Urumqi International Airport were cleaning the runways, an airport statement said.
Snow wreaked havoc again in the Ili Kazakh Autonomous Prefecture in northwestern Xinjiang. Snowstorms had battered the region for three days to Saturday.
The snowstorms, which brought up to 90 cm deep of snow to some regions, affected 12,718 residents in 72 towns and killed one herdsman and injured another. Meanwhile, 1,786 people have been evacuated.
In addition, the snowstorms damaged 304 houses and 611 livestock stalls, killing 381 animals and trapping a further 8,302.
Li Xuejun, the party chief of Ili, has ordered rescuers to search remote areas to fully safeguard the safety of local residents' lives and their property.