Chinese Internet users have been imitating the hand signals used by crew members on the country's first aircraft carrier, the Liaoning, in celebration of a crucial breakthrough in the country's move toward a deep-sea navy.
The gesture, stepping forward in a low bend and pointing with two fingers on one hand, was made by two crew members on the carrier's flight deck, giving the go-ahead to the pilot of a Chinese J-15 fighter jet who succeeded in the country's first take-off and landing from an aircraft carrier.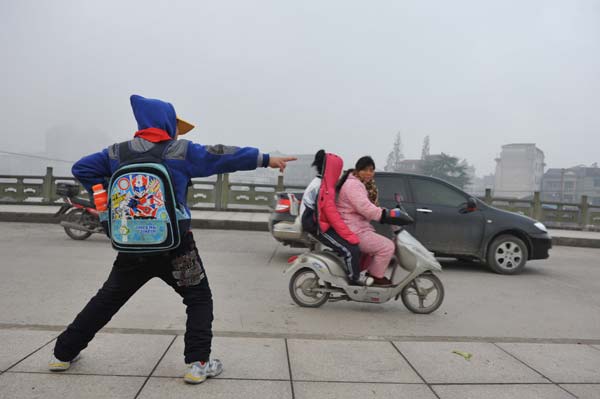 A student imitates "Carrier Style" — the hand signals crew members use to direct the take-off and landing of a J-15 fighter jet on China's first aircraft carrier — on his way to a primary school in Lin'an, Zhejiang province, on Tuesday. [Photo/China Daily] 
Close-up shots of the crew broadcast on China Central Television from Sunday to Monday gave viewers the chance to see the gesture properly, and it was soon being imitated by Chinese Internet users on the micro-blogging platform Sina Weibo and other major Chinese websites.
Nicknamed "Carrier Style", it has been deemed "cool, powerful and confident as well as amusing and comical" by netizens who uploaded pictures showing various takes on the gesture. Carrier Style rapidly eclipsed the online craze for the Gangnam Style music video after which it was named.
On Sina Weibo, posts relating to Carrier Style were followed by more than 8 million users in one day and topped the list of hot topics.
"Although the gesture has often been seen in movies, I couldn't restrain my excitement the first time I saw it used to instruct a fighter jet to land and take off from China's first aircraft carrier," said Han Lu, executive chief editor of a leading car website.
Some netizens also praised the Chinese government's swift announcement of the dangerous exercise, comparing it favorably against the long delay it took to officially confirm the refitting of the carrier last year.
The successful exercise on the Liaoning was conducted within two months of the carrier's delivery to the People's Liberation Army navy on Sept 25.
Enthusiasm for Carrier Style has shown that the gesture has been accepted as a totem inspiring self-confidence and pride among Chinese people.
"With carrier-borne fighter jets, China's own aircraft carrier is now truly charting a course for deep seas," commented a user named Lifushou on Sina Weibo.
"We have done these test flights from the very beginning, and finally we mastered the key skills for the landing of carrier-borne aircraft," said Vice-Admiral Zhang Yongyi, the commander-in-chief in charge of the exercise.
"It's like dancing on a knife point because the aircraft has to land on a very small space," Zhang said.
The success of the exercise on the Liaoning, using a ski-jump style take-off instead of a catapult system, makes China one of a handful of countries to have mastered the landing and take-off of fixed-wing jets on an aircraft carrier.
Refitted from the former Soviet Union's unfinished carrier Varyag, China's first aircraft carrier was towed to Dalian in Northeast China in 2003.
Chinese authorities said the aircraft carrier will be mainly used for training and scientific research, and its operation will not change the national defense policy, which is defensive in nature.
Military experts estimated that the J-15 has comprehensive capabilities comparable to those of the Russian Su-33 and the US F/A-18.
Luo Yang, the chief of the carrier-borne J-15 project died of a heart attack on Sunday.
CCTV confirmed Luo's death on Monday. Many netizens' reacted with disbelief to the sad news.
"I just could not control such mixed feelings on a day when we should have had thousands of reasons for celebration," a Sina Weibo user named Shuijunnandang wrote on the website.
"Under unimaginable pressure, Luo sacrificed himself to turn J-15 jets' take-off and landing into reality."