Authorities in Henan deny relocation halted
A controversial project to move 3.5 million ancestral tombs in Central China will continue, authorities said on Wednesday, dismissing reports that the work has been halted.
The plan by the city government in Zhoukou, Henan province, to relocate the rural tombs to new cemeteries, to make space for farmland, triggered strong protests from residents.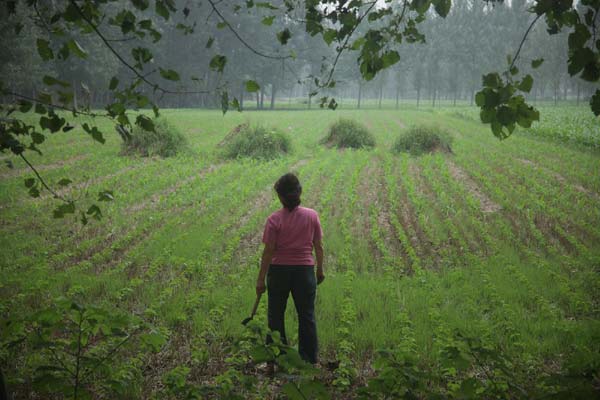 A woman stands at a farmland dotted with tombs in Shangshui county, Zhoukou of Central China's Henan province, on July 14. Zhoukou plans to relocate 3.5 million rural tombs to make space for farmland. [Photo/China Daily] 
On Wednesday, The Beijing News quoted an unnamed publicity official as saying the city has suspended its campaign. However, when contacted by China Daily, city spokeswoman Li Xianghong said the report is not true.
"The campaign is still being carried out steadily without any change," Li said.
Yue Wenhai, mayor of Zhoukou, told a TV station the city is promoting the "reform of funerals and interment" to protect farmland. He said tombs scattered throughout the countryside hamper the use of large agricultural machinery, and called for understanding from residents.
More than 2.34 million - nearly 70 percent - of the tombs have been relocated, Yue told a news conference on Nov 6, when it was disclosed that the city had received 3 million yuan ($481,000) from the provincial government.
Families are being paid 200 yuan for each tomb that is relocated. However, many villagers are reluctant, believing the move is disrespectful to the dead.
In Taikang county, Lou Shifeng said officials threatened to demolish his family tombs with a bulldozer last week after he refused to relocate them. Almost every resident in his village opposed the campaign, but they had to obey the government's order or the tombs would be destroyed, he said on Tuesday.
"It's against tradition," he said. "I don't understand why we have to do this."
Wang Xuming, president of the Language and Culture Press, who has more than 1.43 million followers on his micro blog, criticized the campaign on Monday as "offending God and against nature".
The People's Daily also opposed the campaign on its micro blog on Saturday, saying that destroying ancestral tombs could not win the hearts of the people.
Spokeswoman Li, in response to questions over the controversy, said residents support the campaign.
"If everyone opposed it, how could it be possible to move more than 2.34 million tombs?" she said, adding that there had been no violence during the relocation.
However, Liu Guangming, director of the Dancheng county government, said it has been a tough battle to persuade villagers to relocate the tombs due to deep-rooted beliefs.
To gain public understanding, Fugou county officials held a speech contest on Oct 25 with the theme of tomb relocation. Top prize was a bottle of liquor, which many Internet users said was disrespectful to the dead.
Chu Jixue, a publicity official in Beijing, wrote in Southern Weekly that the tombs of his grandparents and great-grandparents in Zhoukou had been demolished this month without his approval.
"Seeing the photos of the destroyed tombs, all I can do is weep," he wrote. "Without my ancestors' tombs, I feel like a rootless weed."
Rules on funerals and interment state that authorities can take measures to deal with tombs violating regulations, but are not empowered to move tombs that do not.
Ma Shouguo in Zhengzhou contributed to this story.
anbaijie@chinadaily.com.cn