VLADIVOSTOK - Chinese President Hu Jintao and leaders from other Asia-Pacific Economic Cooperation (APEC) members gathered here Saturday to discuss using collective action to ensure stable growth in the region.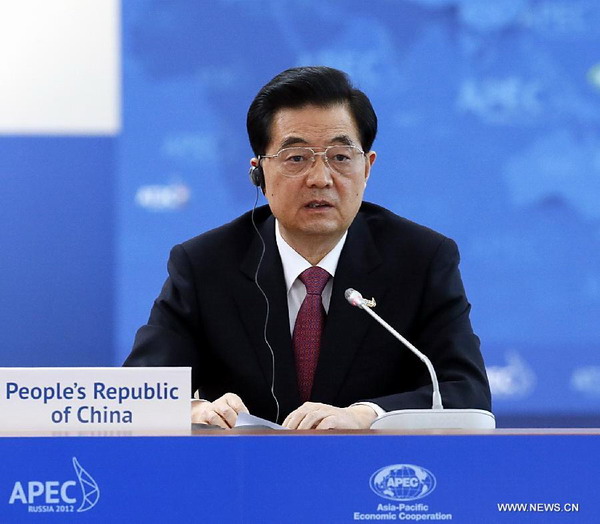 Chinese President Hu Jintao speaks at the 20th APEC Economic Leaders' Meeting in Vladivostok, east Russia, Sept 8, 2012. [Photo/Xinhua]
At the two-day APEC Economic Leaders' Meeting, under the theme of  "Integrate to Grow, Innovate to Prosper," the leaders will discuss trade and investment liberalization, regional economic integration, strengthening food security and establishing reliable supply chains, as well as cooperation to foster innovative growth.
This year's APEC meeting was convened at a time when destabilizing factors and uncertainties remain prominent in the world economy.
At present, major economies are experiencing sluggish growth, global demand remains weak, eurozone economies are confronted with a serious debt crisis, international trade has notably slowed, and unemployment is still high in many advanced economies.
While pursing APEC's goal of free trade and investment, APEC leaders will work out measures to strengthen cooperation in dealing with these acute problems, which threaten stable growth in the region.
Chinese officials said Hu would present China's views to the meeting on how to promote world and regional economic growth, and elaborate China's stance on the topics of this year's meeting.
Highlighting the agenda of the meeting, Russian President Vladimir Putin said Wednesday that the key challenge for Russia and all the APEC economies now is to support sustainable growth.
"We suggest that the dialogue in Vladivostok focus on freeing up trade and investment flows to stimulate economic growth, taking into account new realities such as Russia's accession to the World Trade Organization," Putin said in an article published in the Wall Street Journal.
"We have made food security a particular priority for discussion at the summit, a proposal that the other participants supported. Instability in global food markets can lead to serious economic and social risks. We must jointly offer answers to this challenge," he said.
Later in the day, the leaders will meet members of the APEC Business Advisory Council (ABAC) to seek their recommendations for future work in specified priority areas.
The APEC leaders and ABAC representatives are expected to exchange views on issues such as the Doha Round of global trade negotiations, regional economic integration and food security.
Chinese Assistant Minister of Commerce Yu Jianhua told a press briefing last week that APEC members need to bear in mind the nature of the group, adhere to the principle of consensus, take members' differences into consideration and uphold non-discrimination, openness and tolerance while advancing regional integration.
At the end of the two-day gathering, the leaders were expected to issue a declaration which will outline the future development of the region.
APEC is the premier economic forum in the Asia-Pacific region.
Since APEC's birth in 1989, it has grown to encompass 21 members spanning four continents, and represents the most economically dynamic region in the world, accounting for approximately 40 percent of the world's population, around 57 percent of world GDP and about 48 percent of global trade.
APEC's 21 member economies are Australia, Brunei, Canada, Chile, China, China's Hong Kong, Indonesia, Japan, Republic of Korea, Malaysia, Mexico, New Zealand, Papua New Guinea, Peru, the Philippines, Russia, Singapore, Chinese Taipei, Thailand, the United States and Vietnam.