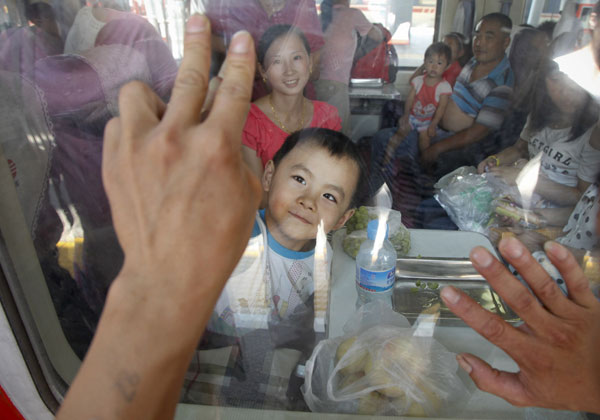 Liu Haoran, 6, plays finger games with his father through the window of a train at the Beijing Railway Station on Wednesday. After a short reunion, the boy has to leave his father, a migrant worker in Beijing, for his hometown in Maanshan, Anhui province, for the new semester. Kuang Linhua / China Daily
Nine-year-old Wang Lin sat in the passageway of a pedestrian bridge at the busy Beijing West Railway Station with his father on Tuesday afternoon, waiting for their train to Xining, Northwest China's Qinghai province.
The boy said he had "a great time" this summer although he spent most of the time in the noodle restaurant where his father works.
Just being with dad was joy itself for Wang Lin, who lives with his mother and elder brother in Qinghai province.
He meets his father, Wang Youde, 40, twice a year.
The father, a noodle chef who managed to save about 2,800 yuan ($441) last month, said he "really spent a fortune" on a pair of skates as a reward for his son's excellent academic performance. The illiterate father hopes his two sons can go to university.
"This is the most expensive gift I have received but I will share them with my elder brother," the son said with his eyes fixed on the wrapped shoebox.
The father said he would probably find a job near his hometown after sending his son home.
"My son likes Beijing a lot but it's a pity that we didn't have enough time to travel around," the father said.
He Jiejun, carrying two bags of food and clothes for his daughter, rushed to a platform in the Beijing Railway Station on Wednesday morning but kept looking back at his two young children and asked them to hurry up.
He had to send his 9-year-old daughter, He Zihan, to Zhangjiakou, North China's Hebei province, before the autumn semester starts.
"I sent my daughter to her grandparents' home when she turned 2 because my wife and I had to work and had little time to take care of her," said the 32-year-old auto parts shopkeeper.
He and his wife raised their second child, 5-year-old He Zimo, as they realized that the grandparents spoiled their daughter. He said he planned to bring back his daughter next year.
Liu Yongdong, who works for a construction company in Beijing, waved goodbye to his two children and wife who departed for their hometown in Maanshan, East China's Anhui province, on a train Wednesday morning.
"They stayed about 50 days in Beijing and my daughter refused to talk to me since this morning when she realized she has to go back," Liu said.
"My work requires high mobility as once a construction project is finished, we have to move somewhere else for a new job. This lifestyle is not good for children," he said.
In Shanghai, Wu Jinchun, 37, said he just sent both of his daughters home to Anhui's Fuyang city a week ago after the two-month summer holiday.
"My summer is usually much noisier than other seasons," smiled Wu Jinchun, the father of three. "But my place is too little for five of us."
Nestled in a small motor repair shop that faces the overpass, Wu's home is also his workplace.
"My boy was born in Shanghai, that's why he stays with us — the tuition for preschool is too much for us though," he said.
He chose to send his son to a cheaper kindergarten more than 20 km away.
"I might send him back to Anhui if I can't guarantee a spot in a nearby primary school next year."
Statistics from the All China Women's Federation in 2008 showed that there are about 58 million children left behind by their parents in China's vast rural areas, about 28 percent of all rural children.
Kang Jian, a retired professor from the Graduate School of Education in Peking University, said many left-behind children feel lonely and helpless.
"The deprivation of parents' love is very bad for these children's growth, and you can barely find any professionals in rural schools who can provide psychological counseling for them," he said.
Xiong Bingqi, deputy director of 21st Century Education Research Institute, a nonprofit policy-research body, said the government has made progress in enabling migrant workers' children to receive nine-year compulsory education in cities where their parents work.
However, the government should reform the education system to make cities more accessible for migrant workers' children.
Students are required to take senior secondary education entrance exams and national college entrance exams where they have permanent residency permits.
"Migrant workers' children have to return to their places of residence so they have to struggle to adapt to a new environment and stay apart from their parents again," he said.
Education Minister Yuan Guiren told media in March that his ministry had asked local education departments to publish measures and timetables for solving the college entrance exam problem "within 10 months".
Contract the writers at hedan@chinadaily.com.cn and shiyingying@chinadaily.com.cn
Da Wenjiao and Ma Yiyun contributed to this story.