A spate of fatal traffic accidents has prompted the Ministry of Public Security, the Ministry of Transport and the State Administration of Work Safety to carry out a nationwide road traffic safety inspection.
On Sunday, a sleeper bus carrying 39 people rammed into a tanker carrying methanol, a highly flammable liquid, and caught fire on a highway in Yan'an, Northwest China's Shaanxi province. Only three people aboard the bus survived.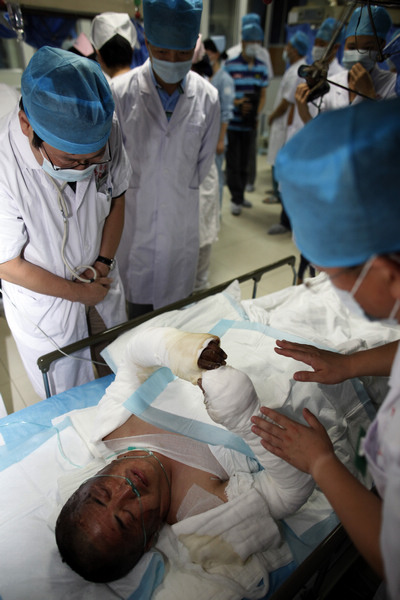 Zhang Shixiong, a man severely injured in the Yan'an traffic accident on Sunday, is transferred to the Xijing Hospital in Xi'an, Shaanxi province, on Monday. Li Zonghua / for China Daily 
The three ministries held an urgent conference on Tuesday, vowing strict enforcement of traffic safety regulatory law to prevent similar accidents from happening again.
According to the Ministry of Transport, from January to July, the number of traffic accidents casualties declined by 13.3 percent year-on-year.
But a total of 18 major traffic accidents have occurred in the year to August. The number was 14 in the same period last year.
"The fatal traffic accident in Yan'an taught us a very heavy lesson," said Huang Ming, vice-minister of public security.
"It exposed many problems. The law enforcement authorities didn't fulfill their responsibilities," he said.
"Moreover, there are some loopholes in the highway safety management," he said.
Huang said the traffic police will carefully inspect passenger vehicles leaving bus stations that are traveling out of the city, on highways, or crossing borders. They will also pay close attention to checking buses with more than seven seats or vehicles with dangerous cargo.
"We will not tolerate overloading or speeding," he said.
The police will also strengthen supervision of long-distance passenger lines, and prevent driver fatigue.
"As for those who exceed the speed limit over 50 percent, we will revoke their driving license, and will punish their employers who will also be told to dismiss staff members who exceed the speed limit by more than 20 percent," he said.
Yang Chuantang, Party chief of the Ministry of Transport, said his ministry will examine potential safety hazards on roads, bridges and on the water.
"Safety management of passenger buses will be strengthened, and measures will be taken to put an end to driving while fatigued," Yang said.
Strict measures will be taken to prevent overloaded vehicles on roads or bridges, he said.
The names of 29 of the 36 passengers killed in the accident in Yan'an have been confirmed.
According to the Hohhot City Transportation Group Company, which runs the sleeper bus, some victims were identified by the video recording of them boarding the bus. Others will be identified by other means, possibly through DNA tests.
A compensation plan for the victims is being discussed and is expected to be completed within a week, according to the Yan'an government.
One of the identified victims was Li Zhiyu, 21, a college student in Xi'an.
He had sent his mother Ma Suqin a text message in advance, telling her he had arrived in Xi'an on Saturday night to ease her worry.
"How can I bear such bad news?" Ma said in tears.
After the accident, the long-distance bus stations in Xi'an took measures to ensure every bus has safety hammers before it starts its journey because one of the survivors told media that he lived because there was a small window open near his berth.
Contact the writers at zhangyan1@chinadaily.com.cn and malie@chinadaily.com.cn
Zhi Yun contributed to this story.