With many regions still reeling from torrential rain and floods caused by two typhoons, a new round of wild weather will lash parts of China's coastal areas in coming days, authorities said.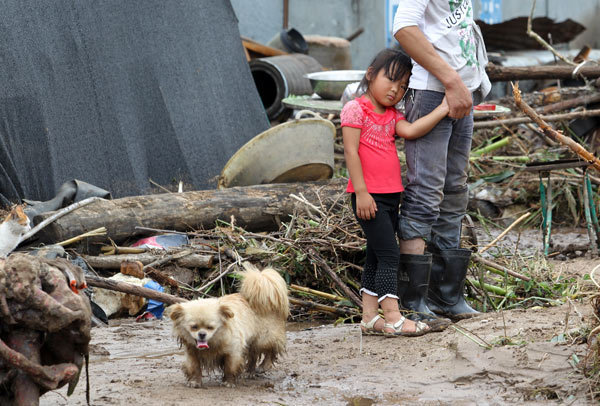 A girl stands with her father on the muddy ground at Pianling township, Xiuyan county, Liaoning province, on Sunday after Typhoon Damrey tore through the region. Wu Zhangjie / for China Daily
As of 9 am Sunday, typhoons Saola and Damrey had wreaked havoc across seven provinces.
The typhoons left at least eight people dead and eight missing in Jiangsu, Zhejiang, Fujian, Jiangxi, Shandong, Liaoning and Hebei provinces, according to the Ministry of Civil Affairs. More than 1 million people had been evacuated, the ministry said.
"I never saw such heavy rain and didn't expect that the city would be flooded," said Qiao Tianguang, a 43-year-old villager in Gaizhou, one of the worst-hit cities in Northeast China's Liaoning.
Qiao drove a forklift for two days to save more than 20 people in danger. He said the water in streets was almost 2 meters deep. Small cars were submerged. There was no one in the streets except people trapped by the floods.
"We took seven pregnant women to hospital. It took about an hour because of the deep water and the debris such as TV sets and desks. Usually, it's only 15 minutes to get there," Qiao said.
Rainstorms caused by Typhoon Damrey eased on Saturday night in Liaoning. However, eight villages in Xiuyan county and Haicheng and Gaizhou cities still could not be accessed by vehicles because of washed-out roads.
"Some rescuers went there by boat, but communication has not yet been re-established," said Huang Dawei, a Gaizhou official.
Fifteen fire engines carried water to people in these areas, and authorities cut the power supply on Saturday to prevent people getting electrocuted. More than 2,500 kilograms of biscuits, 5,000 boxes of bottled water, 150,000 sausages and 1,000 boxes of bread were delivered to the temporary settlements in Gaizhou.
The flood also stopped or delayed more than 5,000 buses.
"Our train seems like a boat, running above the water," said Yan Fei, who took a train departing Gaizhou about 1 pm on Sunday. Some parts of the railway track were still under water, she added.
Beijing Railway Station, the capital's main rail hub that links the city with three provinces in Northeast China - Liaoning, Jilin and Heilongjiang - experienced many delays and cancelations over the weekend.
Yu Xuejin, the station's publicity director, said on Sunday that despite disruption over the weekend, the damaged rail lines to the northeast gradually resumed services after urgent repairs had been made.
By 2 pm on Sunday, 10 trains leaving for the region from the station were canceled. The figure will be further reduced to three on Monday, compared with a cancelation of 25 trains on Saturday, Yu said.
"This was the most serious blockage of the region's railway network in the past five years," he said.
On Saturday more than 20,000 passengers returned train tickets at the station, as their travel plans were affected by the suspension of rail services, especially on the prominent Beijing-Harbin line.
Passengers can return their tickets within three days from departure time of the canceled trains and get a full refund, Yu said.
More than 30,000 passengers were stranded at peak hours on Saturday morning and afternoon, Beijing Daily reported.
"Since the train schedule is under dynamic adjustment these days, we are now informing the public through electronic billboards at the station or on the Internet on a real-time basis," Yu said.
In the south, strong gales and heavy rainstorms brought by tropical storm Haikui, the 11th of the year, will hit Shanghai and Zhejiang, Anhui and Jiangsu provinces on Tuesday and Wednesday, according to the China Meteorological Administration.
The tropical storm was moving northwestward from Japan's Okinawa on early Sunday, the administration said.
Heavy rain will also sweep parts of Hubei, Sichuan, Guizhou, Yunnan and Guangdong provinces and the Guangxi Zhuang autonomous region in the next three days, due to the combined impact of cold air and the previous double typhoons, it said.
Contact the writers at jinzhu@chinadaily.com.cn
Wu Yong in Shenyang contributed to this story.