Liaison with Vietnamese law enforcement aids authorities in crackdown on narcotics
The establishment of two liaison offices in China and Vietnam will greatly boost the fight against cross-border drug crime, officials said.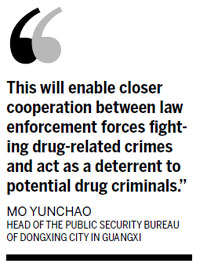 "Following the setting up of the offices, procedures previously needed for law enforcement in fighting crime across the border between China and Vietnam will be largely reduced," said Mo Yunchao, head of the public security bureau of Dongxing city, in South China's Guangxi Zhuang autonomous region, which borders Vietnam.
"This will enable closer cooperation between law enforcement forces fighting drug-related crimes and act as a deterrent to potential drug criminals."
The liaison offices were set up on Friday in Dongxing and Mong Cai, a neighboring city in Vietnam.
"Following the first two liaison offices, another six offices will be set up across the border in the near future, including three in Guangxi," Mo said.
Officials from the narcotics control bureau of the Ministry of Public Security proposed to set up the first liaison office in Dongxing last year because of its geographic proximity to Vietnam, and because Dongxing and Mong Cai have been cooperating closely in cracking down on drug crime since the late 1990s, said Gao Jianping, head of Dongxing's narcotics control office.
"Police officers in the two cities have a meeting every month to exchange information and cooperate," he said.
Local police previously had to report cases to higher authorities and wait for instructions from on high when dealing with cross-border drug crime.
"Now we can deal with such cases directly with our Vietnamese counterparts. For example, if a Vietnamese suspect escapes to China, we can send him back to Vietnam through the liaison office in Mong Cai, instead of reporting it to higher authorities," he said.
"I think the new mechanism will make our work easier," said Hu Hua, a police officer who has worked in Dongxing's narcotics control offices for 10 years.
"Drug criminals often go across the China-Vietnam border. Frequent and direct communication by the liaison offices will definitely facilitate our fight against crimes across the border."