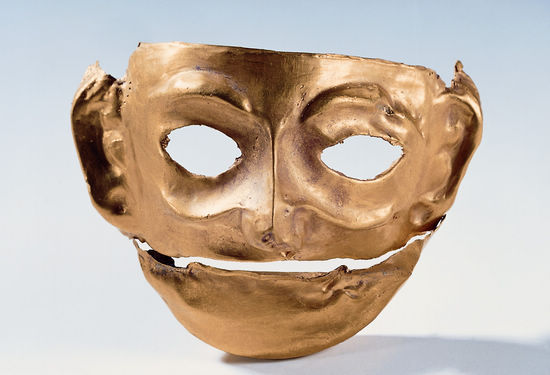 The gold mask in the Jinsha Site Museum is believed to be more than 3,000 years old.[Photo/China Daily]
There is a collection of gold masks in Sichuan that tell a tale of rituals past. Huang Zhiling reports from Sichuan.
Visitors to the Jinsha Site Museum in Chengdu, Sichuan province, never fail to be impressed by a gold mask taking pride of place in the exhibition hall on the second floor. It is only one of many ancient masks excavated from the Sanxingdui and Jinsha Ruins in Sichuan.
According to Zhu Zhangyi, the deputy curator of the Jinsha Site Museum, these masks are unique to the area.
About 3.7 cm tall and 4.9 cm wide, they are very thin and the gold mask exhibited in the museum is believed to be more than 3,000 years old.
"The gold mask was not donned by a living person. Instead, it was affixed to a bronze human head or a wooden human head," Zhu says.
Some scholars believe the bronze head represents the soul of a dead ancestor, while others hold the opinion that it is the image of a necromancer and the bronze head is probably that of a high-ranking shaman.
Despite the diverse views, the certainty is that the bronze heads were worshipped by ancient Sichuan people, who believed that they were channels to higher beings and would afford protection.
It was also an indication of the advanced level of witchery and religion during the Shu Kingdom, according to Zhu. Shu is the ancient name for Sichuan.
Masks are closely linked with witchery craft. They are widely used by many ethnic groups in sacrificial ceremonies and holiday celebrations or when they pray for a better harvest.
In sacrificial ceremonies, necromancers wearing masks dance to amuse the gods, and work themselves into a trance during which they believe they can communicate directly with the spiritual realms.
"Facial make-up in the modern Peking Opera and Sichuan Opera as well as masks in modern masques are related to the ancient masks," Zhu says.
As gold masks have been excavated only in Sichuan, some scholars think they might have been influenced by Western Asian civilization.
Between 4,000 and 3,000 years ago, a large number of gold ornaments appeared in Egypt and Western Asia. They quickly spread along the Mediterranean Sea to Central Asia and South Asia. It is very likely that gold masks also found their way into the Chengdu Plain through India and Central Asia.
Although they adopted some elements of Western Asian civilization, the ancient Sichuan people are said to have made their masks in line with their own cultural heritage in an innovative way.
The Jinsha Ruins, where the Jinsha Site Museum is located, cover 4 square kilometers including an area for holding sacrificial rites, residential quarters for the nobility, another residential complex for commoners and a graveyard.
Experts hail the ruins as one of Sichuan's most important archaeological finds after the discovery of the San-xingdui Ruins in 1929. Like Sanxingdui, Jinsha was discovered by accident.
On Feb 8, 2001, builders working on an apartment construction site in Jinsha village found ivory and jade pieces among the piles of earth.
Since then, archaeologists have excavated more than 5,000 precious relics including gold, jade, bronze and stone wares as well as one metric ton of whole elephant tusks and tens of thousands of pottery and ceramic shards.
A farmer digging a ditch in his fields also discovered the Sanxingdui Ruins in Guanghan, 40 km from Chengdu.
From that site, more than 10,000 relics, some of which date back 3,000 and 5,000 years, have been unearthed. In 1986, six gold human masks and 24 bronze human masks were recovered in Sanxingdui.
The excavations have yielded what are considered some of the most significant archaeological discoveries in China in the last century.
Contact the writer at huangzhiling@chinadaily.com.cn, Wang Yinan contributed to this story.