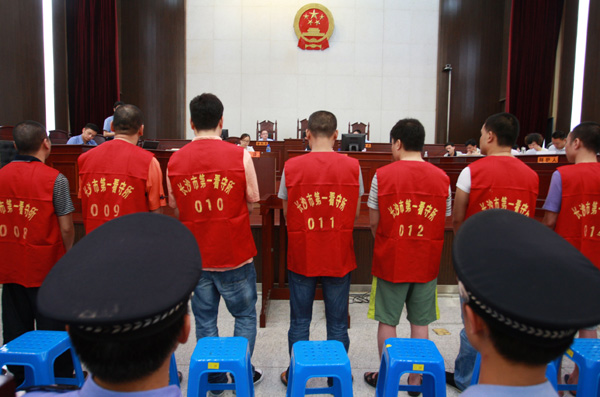 Suspects clad in detainee uniforms appear at a trial in Intermediate People's Court of Changsha, Hunan province, in July. Zhou Qiang / for China Daily
Jail suits seen as prejudicial to defendants; guideline also lowers bar for filing of lawsuits
Criminal defendants and appellants will not need to wear jail clothes - often orange jumpsuits - when they appear in court, under a new judicial reform guideline, China's top court said on Thursday. They can wear ordinary clothing.
The change is designed to make court proceedings more neutral and fair for defendants, as jail clothing is a strong visual element that tends to label an accused person as guilty even before all the evidence is presented.
The new guideline is an amended version of an earlier one issued by the Supreme People's Court in July. It was extended to 65 articles from the earlier 45.
The latest guideline highlights judicial protection for human rights, allowing criminal defendants and appealers not to wear clothes with custody logos when they stand trial in courts.
Now, the top court is working with the Ministry of Public Security to ensure that the requirement is effectively implemented, He Xiaorong, director of the court's leading office for judicial reform, said at a news briefing on Thursday.
"The ban on wearing jail clothes represents major progress in protecting the rights of defendants, and it's being pushed forward in our courts," He said.
Li Shaoping, vice-president of the top court, also asked courts to protect defendants, as well as participants in lawsuits, by providing opportunities to make statements in their defense and to appeal, under the new guideline.
Li said the amended guideline aims to provide better protection to litigants and focus on trials instead of administrative affairs to properly enforce the judicial reforms raised by the country's central leadership in 2013.
"We reviewed some pilot programs after the Fourth Plenary Session of the 18th CPC Central Committee in October 2014, and then took four more months to update the old version, hoping the new one will be more effective," he said.
The amendment also says a case can be filed after it is registered instead of only after a preliminary review, Li said.
This means residents' cases should be accepted in a timely manner if they provide complete materials and register the information, he said, adding those without strong documents will receive a reply from the court within seven days.
caoyin@chinadaily.com.cn
Related:
Courts to scrap handcuffs, cages for defendants