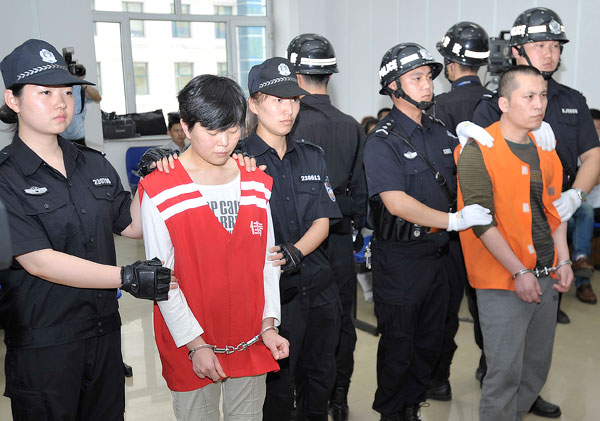 Two suspects on prison uniforms stand on trial in this 2014 file photo. The outfits may not be seen in the court in the future because a new rule by the Supreme People's Court will forbid suspects on trial wearing clothes that may influence opinion on their guilt. [Photo by Xiao Jinbiao/China Daily]
China's Supreme People's Court (SPC) announced on Thursday that it would forbid suspects on trial from wearing prison uniforms or clothes that would indicate that they are suspects in criminal cases in a move to better protect the rights of the accused, Xinhua News Agency reported on Thursday.
The new rule is part of the new five-year (2014-2018) reform plan of China's court system which was announced at a news conference on Thursday.
According to the new rule, criminal suspects on trial should not wear prison uniforms, vest or clothes that carry the logo of prison or detention house.
"A defendant is not a convict until the court proves he or she is guilty," said He Xiaorong, the chief of legal reform office of the SPC, to chinanews.com. He added that the new rule is drafted to better protect the human rights of the defendants.
The Criminal Procedure Law of China stipulates that no person shall be found guilty without being judged as such according to the law by a People's Court.
The principle is also known as the presumption of innocence, one of the most important rights embodied in criminal justice systems around the world.