A record speed was achieved by a high-speed test train made by China's largest train maker, Beijing News reported Thursday.
CSR, China South Locomotive & Rolling Stock Co Ltd, launched the test train, which can reach speeds of up to 575 kilometers an hour, the paper said.
Liang Jianying, deputy chief engineer at the subsidiary company CSR Sifang Locomotive & Rolling Stock Co Ltd, said the train was in good condition and the speed will be further improved.
The test train aims to promote the development and security monitoring of high-speed trains and will not actually run as a business operation, said Zhao Xiaogang, chairman of CSR.
In December 2011, CSR launched a test train with speeds reaching up to 500 kilometers an hour.
China will continue to increase the speed of trains during the 12th Five-Year Plan (2011-2015), according to a project of the development of high-speed trains issued by the Ministry of Science and Technology on Wednesday.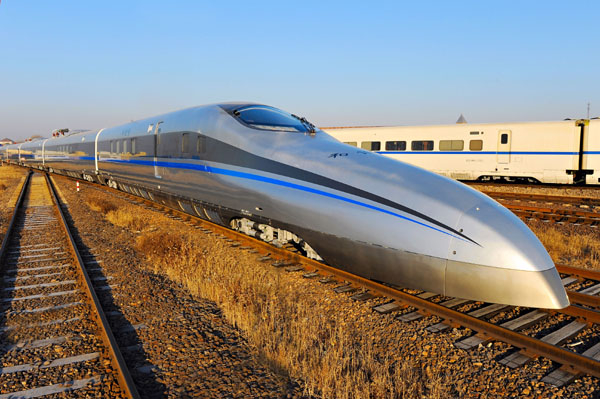 The first test train that can reach speeds of up to 500 km an hour stands on a railway line in Qingdao, East China's Shandong province. [File photo/Xinhua]