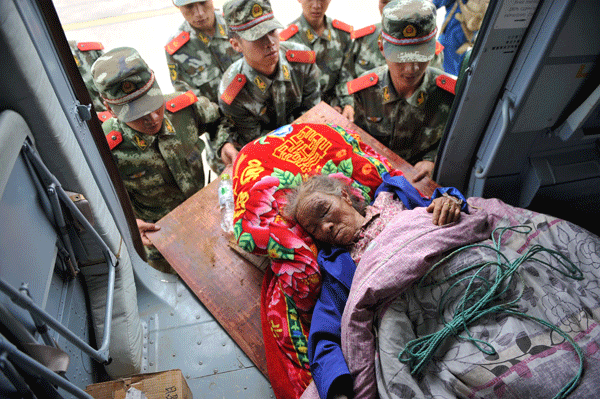 People's Liberation Army soldiers transfer an injured elderly person at Longtoushan township in Ludian county of Yunnan province on Monday. The magnitude-6.5 earthquake has so far left at least 398 people dead, three people missing and another 1,801 people injured. [Photo/Xinhua]
Early warning system helps residents near quake epicenter escape death
High school student Geng Fangdong was doing his homework in Zhaoyang district of Zhaotong, Yunnan province, on Sunday afternoon when his cellphone started beeping.
"It began to count down, from five to one, in Mandarin. Then it sounded off sirens repeatedly," said the 18-year-old from the Zhaotong No 1 High School.
"I knew an earthquake had taken place. I fled to the bathroom (considered one of the safest places during a quake) for safety together with my teacher parents," Geng said of their escape from the disaster.
Zhaotong is about 42 km from Ludian county, the epicenter of the magnitude-6.5 quake that struck at 4:30 pm on Sunday.
The earthquake early warning system that helped save Geng's life through his phone was developed by the Institute of Care-Life, a private research organization in neighboring Sichuan province.
The system by the institute, based in Sichuan's capital Chengdu, can be used via cellphones and television sets.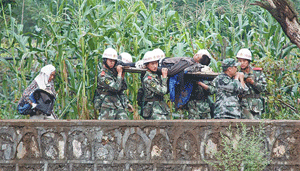 Rescuers transfer an injured person out of the epicenter area on Monday morning after the road to the outside was reopened. Zhang Guanyu / For China Daily
If a quake strikes a location, people in other areas can receive early warning via the system "within seconds", institute director Wang Dun said.
Fan Keming, a 36-year-old teacher of Chinese in Baihetan High School in Yunnan's Qiaojia county, was at his school's playground when its large TV set started counting down from five to one. The county is about 120 kilometers from the epicenter of Sunday's earthquake.
"I knew it was a quake. The early warning system (from Wang's institute) was installed last September and each semester the school held two drills to teach students to evacuate the school building once the TV set started counting down," Fan said.
"Several seconds seem really short. But it can save lives in a major quake," Fan said.
A real-time system sounds off within seconds after a quake hits and can save lives in tremors of magnitude of 6.0 or higher because the warnings, transmitted via radio waves, travel faster than seismic waves.
"Radio waves travel at 300,000 kilometers per second, while seismic waves travel at 3 to 6 km per second. People who live in nearby areas may escape before the seismic waves arrive," said Chen Huizhong, a research fellow with the Institute of Geophysics under the China Earthquake Administration.
Residents in Zhaotong and Kunming, capital of Yunnan, received the early warning countdown 10 seconds and 57 seconds before seismic waves reached their cities on Sunday, Wang said.
His institute has monitored quakes and sent more than 1,000 accurate warnings through the system since April 2010, he said.
"Five seconds after the magnitude-7.0 Lushan earthquake in Sichuan on April 20, 2013, the system sent out the early warning. It was five seconds before seismic waves reached Ya'an (a city 33 km from Lushan county)," he said.
The Lushan quake killed 176 people and injured 12,614 others. After the tremor struck, many people in Ya'an, which is about 300 kilometers from Ludian, had installed Wang's free system on their cell phones.
Zhu Zhubing, a 48-year-old employee of the local tax bureau, heard the countdown warning on his cell phone on Sunday afternoon.
"With five other family members, we fled to the bathroom in our apartment on the sixth floor," he said.