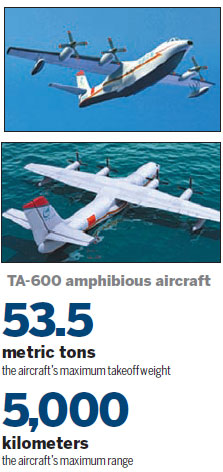 China expects to test-fly next year its first domestically developed seaplane, which is intended to be the world's largest amphibious aircraft, according to an executive at the company working on it.
Trial production of the TA-600 aircraft, formerly known as Dragon-600, will start in Zhuhai, Guangdong province, around the end of this year or the beginning of 2015, as the design has been completed, said Fu Junxu, a senior manager of China Aviation Industry General Aircraft, a subsidiary of Aviation Industry Corp of China, the country's leading aircraft maker.
Fu said contractors will deliver large parts to the company before the end of this year, and the aircraft's maiden flight is planned to take place in 2015.
The aircraft, with a maximum takeoff weight of 53.5 metric tons and a maximum range of more than 5,000 kilometers, will be larger than a Boeing 737 and could be used for a variety of operations such as passenger transport, marine environmental monitoring, firefighting and maritime search and rescue, Fu said.
Powered by four turbine engines, the TA-600 will be the world's largest amphibious aircraft, surpassing Japan's Shin Maywa US-2. It is designed to carry up to 50 people during search and rescue missions.
The company's market research estimates there is demand for 60 of the seaplanes in China.
The country began developing the aircraft five years ago, Fu said.
Wang Ya'nan, deputy editor-in-chief of Aerospace Knowledge magazine, said the TA-600 would fill a vacancy of modern seaplanes in China, which has long ignored the development of such aircraft.
"The old saying 'A thousand days the country nurtures its soldiers and all for one day's battle' applies to the development of amphibious aircraft. People say such equipment is becoming useless, but will eventually realize they are indispensable in maritime operations," Wang said, referring to the continuing search for the missing Malaysia Airlines flight MH370.
"If the Chinese navy had such large, modern seaplanes as the TA-600, it would be much easier for it to search at sea," he said.
Rescue agencies are among the largest operators of seaplanes due to their efficiency and their ability to both locate and rescue survivors of emergencies at sea. Land-based aircraft cannot rescue people, and many helicopters are limited in their capacity to carry passengers and in their fuel efficiency compared to fixed-wing aircraft, Wang said.
China now has at most five SH-5 maritime patrol amphibious aircraft, which are old and cannot perform modern maritime tasks, Wang added.
zhaolei@chinadaily.com.cn