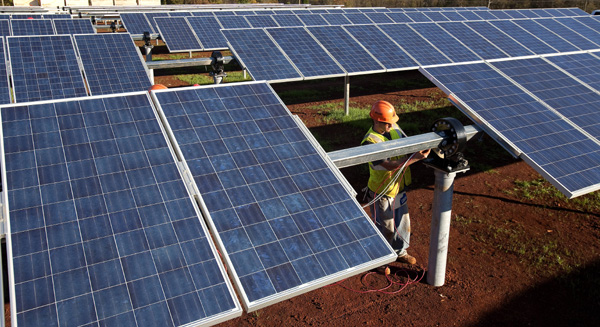 SunEdison Inc's factory in Greensboro, North Carolina. The company is expanding in China with a new joint venture. [Provided  to China Daily]
SunEdison Inc, a leading United States-based solar developer, has signed its second joint-venture project in China, which one leading analyst expects to mark a significant expansion by the company into the world's largest downstream solar market.
Michael Barker, a senior analyst with NPD Solarbuzz, an online solar market research and analysis firm, said the deal between SunEdison and JIC Capital, a Chinese asset management firm, will specifically focus on building solar power projects in China.
"This is the world's largest single-country market for solar photovoltaic power, so it's an important market for companies that are working to be exposed to multiple geographies."
SunEdison announced the deal on Oct 16, which aims to build up to 1 gigawatt of solar photovoltaic capacity - which converts solar radiation into direct electric currents - in China over the next three years.
The joint venture with JIC is worth a total investment of $220 million, according to a report from Bloomberg News.
Ahmad Chatila, president and chief executive of SunEdison, called it "a historic joint venture and a great step forward for SunEdison ... to deliver clean, cost-effective solar energy to the people of China."
Zhang Jianping, chairman of JIC, said his company viewed the collaboration as a chance to learn from the respective expertise brought to the table by both sides.
"This collaboration brings us opportunities to combine capital and industry, to form a focused industrial investment platform for long-term operations," Zhang said.
SunEdison is also in talks with another Chinese group about a potential deal to invest as much as $2 billion to build a polysilicon plant in China. Polysilicon is the leading material used in the production of solar cells.
Chatila told Bloomberg News that locating the plant in China would be highly cost-effective.
In June, SunEdison announced a separate partnership with the Huantai Group, another Chinese solar firm, to co-develop nearly 1.7 GW of solar capacity over the next five years.
An August report from Hanergy Holding Group Ltd, a Beijing-based clean energy company, showed that global renewable energy financing reached $253 billion in 2013.
It added that clean energy investment flows in Asia-Pacific had maintained "continuous growth" since 2011, with total investment from the area reaching $119.61 billion in 2013, a year-on-year increase of 9.8 percent.
"The increase was mainly driven by tremendous growth of photovoltaic installed capacity in China and Japan," the report said.
"In terms of global ranking, China topped the world with financing worth $61.44 billion, overtaking the US by nearly 27 percent, followed by Japan and Germany."