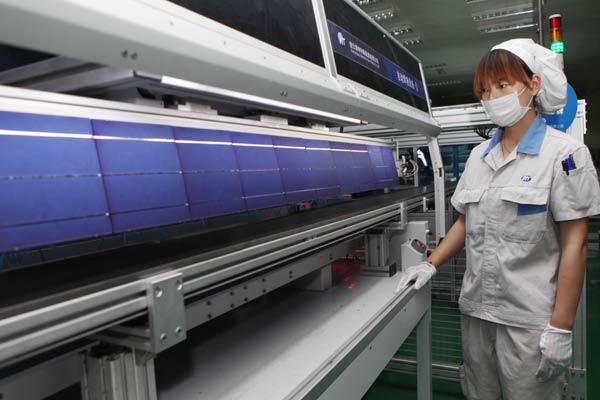 A solar product plant in Lianyungang, Jiangsu province. From April to June, the volume of module shipments from China's major solar companies rose 26 percent to 5.2 gigawatts of capacity, compared with the previous quarter.SI WEI/CHINA DAILY
Trade penalties in US, Europe offset by drive for on-site PV installations
Higher tariffs and tougher regulations imposed by Europe and the United States seem to have had the opposite effect from what was intended on China's solar companies as their global module shipments hit record highs for the second quarter, an industry report said.
From April to June, the volume of module shipments from China's major solar companies rose 26 percent to 5.2 gigawatts of capacity, compared with the previous quarter, according to a report by NPD Solarbuzz.
That figure accounts for about 70 percent of all the photovoltaic module shipments from the world's top 20 solar companies.
Ray Lian, a senior analyst at NPD Solarbuzz, said that despite the problems Chinese solar suppliers are facing from trade disputes, their strategy to focus on regional markets is helping absorb the excessive supply.
"We have seen strong demand from emerging solar markets such as Africa and India, giving a boost to the quarterly growth," he said. "Potential demand from some ongoing projects in Africa already has hit 10 gigawatts."
Shipments of cells and modules will continue to grow for the second half of this year for a total capacity of 17.2 GW due to growing demand from countries outside China, NPD Solarbuzz said.
Companies such as Trina Solar, Canadian Solar, Jinko Solar and JA Solar Holdings are expected to set sales records this year.
Those companies, along with Yingli Green Energy and ReneSola, are among the world's top six module suppliers in terms of shipment volume.
Other factors spurring demand include the fact that some Chinese solar makers shipped modules ahead of the recent trade announcement from the US Department of Commerce, the report said.
China's major solar companies have shipped more than 1 GW in modules to the US. Shipments from Jiangsu-based Trina Solar nearly equaled those of top US panel maker First Solar as well as those of Yingli, which is headquartered in Baoding, south of Beijing in Hebei province.
At the same time, Beijing's push toward so-called distributed solar generation, referring to solar plants scattered close to where the energy is used, including rooftops and ground-mounted panels, has breathed new life into Chinese solar panel manufacturers.
The policy has offset the loss the companies suffered in their traditional markets, where panel prices increased about 15 percent since early June, when the US decided to apply preliminary duties on Chinese imports.
"Domestic demand has been rebounding as the national policy has been encouraging distributed solar power to be generated at industrial and commercial companies with large rooftops as well as abandoned hills, fishponds and other places," Lian said, adding that prices seem to have bottomed out.
China wants to reach a target of 12 GW of new installed solar generation for 2014, with 8 GW of distributed generation and 4 GW in utility-scale facilities that are eligible for subsidies and may spur orders for solar panels.