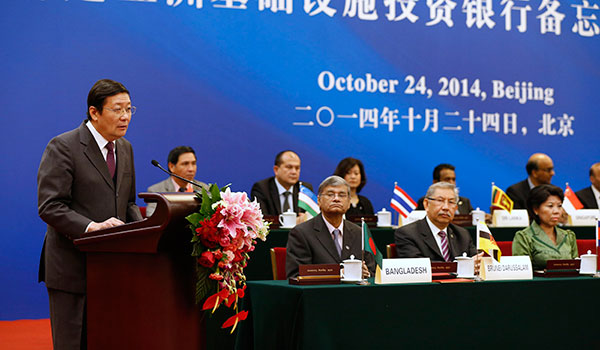 China's Finance Minister Lou Jiwei (L) gives a speech, with the guests of the signing ceremony of the Asian Infrastructure Investment Bank at the Great Hall of the People in Beijing Oct 24, 2014. [Photo / Agencies]
A milestone agreement for the structure of the Asian Infrastructure Investment Bank (AIIB) has been reached, with 21 Asian countries, including India, stepping forward as founding members.
An intergovernmental memorandum of understanding was signed on Friday morning, opening the way for the formal establishment of the China-proposed financial body that will be tasked with providing funds for regional infrastructure projects'
The 21 economies are: Bangladesh, Brunei Darussalam, Cambodia, China, India, Kazakhstan, Kuwait, Lao PDR, Malaysia, Mongolia, Myanmar, Nepal, Oman, Pakistan, Philippines, Uzbekistan, Qatar, Singapore, Sri Lanka, Thailand, Uzbekistan, Vietnam.
During a Southeast Asia visit last October, Chinese President Xi Jinping put forward a proposal to establish the AIIB to promote connectivity and economic integration in Asia.
Since that timeChinahas held five rounds of talks with interested countries on setting up the AIIB and achieving its reported capital target of $100 billion. As of Friday,Japan,Australia, South Korean andIndonesiawill not take part in the AIIB.
China's Finance Minister Lou Jiwei said in a Wednesday conference that the AIIB is an open organization in terms of admitting members, with a guiding principle thatnations in the region comes first
Lou said the AIIB has a different focus than established multilateral organizations such as World Bank and Asian Development Bank (ADB) but added that the leaders of these groups have welcomed the establishment of the AIIB and will hopefully cooperate in certain projects.
The ADB has estimated that in the next decade Asian countries will need $8 trillion in infrastructure investments to maintain the current economic growth rate.