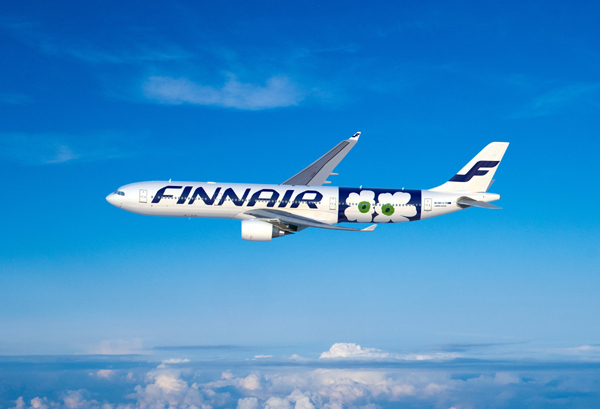 Finnair's new Marimekko themed Airbus 330 is expected to take on long haul flights by the end of this year. [Provided to chinadaily.com.cn]
Finnair announced on Thursday, plans that will see one of its designer painted Airbus 330 take-off on long haul international flights, including routes to China.
The special Airbus 330 features an outward appearance patterned after Marimekko's most beloved classic patterns the Unikko. The plane will fly from Finnair's Helsinki hub to the airline's various long-haul destinations starting at the end of 2014.
"We are excited to build on and extend our partnership with Marimekko," Finnair CEO Pekka Vauramo said in a press conference in Beijing.
In 2012, Finnair unveiled its first designer painted aircraft. It was the first design collaboration between Marimekko and Finnair.
"Our two aircraft wearing the beloved Unikko livery are flying ambassadors of Finnish know-how, positivity and creativity," said Vauramo. "They make a proud statement as they soar toward the great cities of Asia, where both companies see a bright future."
China has been an important market for Finnair. It was the first European airline to start the direct flights from Europe to Beijng.
Beginning next autumn, Finnair will launch the new Airbus 350 to serve Beijing and Shanghai routes. Vauramo says that in order to improve the customer experience during travelling, Finnair has provided Chinese language service in all flights into or out of China.
Marimekko, a Finnish fashion brand, not only provided the unique patterns that decorate the outside of the new aircraft but also designed a series of textiles and tableware. Their textiles and tableware has been used in Finnair's planes since 2013.
"During this year we have been celebrating the fifty years of our most iconic pattern Unikko all over the world," said Marimekko COO Tiina Alahuta-Kasko. "We are very excited to continue the celebrations and our design partnership together with Finnair with the new Anniversary Unikko that will fly on the sides of Finnair's Airbus 330 delighting people around the world".
Alahunta-Kasko says that in honor of the celebrations, Marimekko put out a special blue edition of its Unikko pattern inspired by Finland's thousands of lakes and clean nature.
A designer at Marimekoo said that the Finnair collection is specially designed to add a light and fresh visual dimension to the on-board experience. The collection is also lightweight.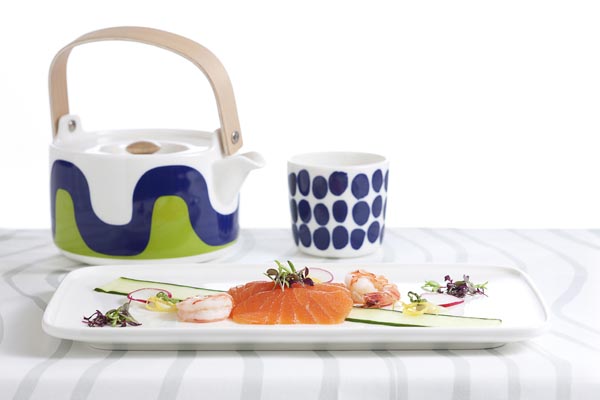 Finnair will provide in-flight tableware with the Marimekko's patterns. [Provided to chinadaily.com.cn]