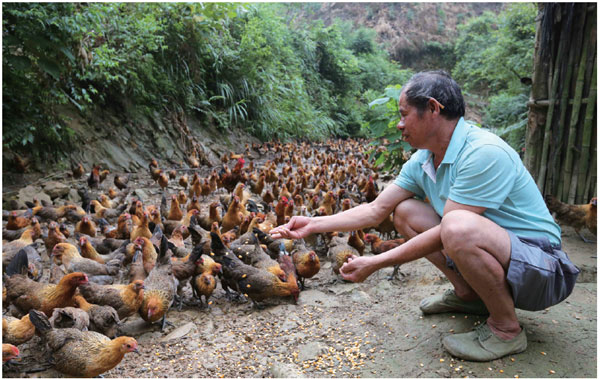 Regulations on the use of antibiotics in animal feed are not strictly enforced in China, and the country has no maximum residue limits for antibiotics detected in animal products such as meat and milk. TAn Kaixing / For China Daily
Experts warn that excessive use of drugs designed to kill bacteria could result in millions of deaths every year. Shan Juan reports.
As the use of antibiotics at China's healthcare facilities comes under increasingly strict control, public health experts at home and abroad are turning their attention to agriculture and calling for enhanced management to prevent potential overuse in the sector.
Every year, 50 percent of the antibiotics employed in the world are used in China, with 52 percent of them used to treat animals bred for food, according to the latest report on international antibiotic use, led by Jim O'Neill, former chief economist at Goldman Sachs who was an adviser to David Cameron, the former prime minster of the United Kingdom.
The report, called the Global Review on AMR (antimicrobial resistance), warns that by 2005, antimicrobial resistance could be responsible for killing 10 million people across the world every year, the equivalent of one person every 3 seconds - higher than the annual global death toll from cancer.
It also estimates that by 2050, AMR could result in 1 million premature deaths every year in China.
AMR occurs when microbes evolve to become increasingly, or fully, resistant to previously effective antibiotics. The term also covers antibiotic resistance, which applies to bacteria and antibiotics.
"China could suffer an enormous loss of GDP because of that," O'Neill wrote in an email exchange with China Daily.
He added that the government recognizes the issue as one of crucial importance and has made efforts to curb excessive antibiotic use, particularly for medical purposes.
Statistics from the National Health and Family Planning Commission show that antibiotic use in China's hospitals has fallen by 40 percent since 2012, when the commission imposed measures - including stricter controls, prescription-only access and health education - to curb long-term excess use.
However, the report notes that the lack of stringent supervision in the agricultural sector must also be corrected.
Xiao Yonghong, a professor at the Institute of Clinical Pharmacology at Peking University and a member of the commission's rational drug use committee, echoed those concerns, saying that while the abuse of antibiotics has almost been eliminated at large hospitals in cities, a lack of surveillance data means it's difficult to assess the scale of the problem at grassroots-level clinics.
"Antibiotic abuse in animal farming is still widespread in China," Xiao said, adding that the country has no maximum residue limits for antibiotics detected in animal products, such as meat and milk.