Authorities in a small town in southwestern China are intensifying efforts to crack down on a long-standing-problem, as Luo Wangshu reports from Xichang, Liangshan Yi autonomous prefecture, Sichuan province.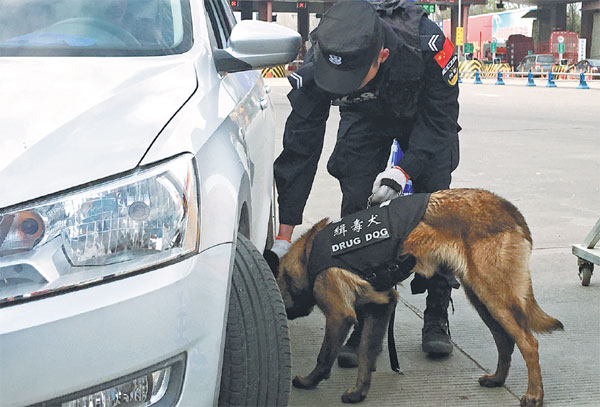 A narcotics officer leads a sniffer dog to check a vehicle near an expressway toll gate in Xichang, Liangshan Yi autonomous prefecture, Sichuan province, on Dec 18. Photos by Luo Wangshu / China Daily
In September, at the start of the fall semester, Hua Yong, deputy principal of Xichang No 9 Primary School, was faced with one of the most difficult situations of his teaching career.
A group of police officers had arrived to take a first grader to the police station, because the 7-year-old boy's grandmother, his sole guardian, had been detained on charges of selling heroin.
The boy's parents, who are drug users and dealers, were already in jail, so the police wanted to take the boy into protective custody while they searched for another relative to be his guardian. Failing that, the boy would be transferred to the child services, Hua recalled.
"It was one of the toughest moments in my career as a primary school teacher," he said. "I couldn't let them take the poor boy to a dreary police station and witness his grandma locked up."
Eventually, the boy stayed in a school dormitory until an aunt offered to become his legal guardian.
Although shocking, the story is not an unusual one in the Liangshan Yi autonomous prefecture in southwestern Sichuan province. Despite decades of efforts to eradicate the problem in the poverty-stricken area, drug use, dealing and smuggling are still rampant.
A convenient pathway
Liangshan has a population of 5.12 million - more than half are members of the Yi ethnic group - and there are about 50,000 recorded drug users, according to Liang Xiaohui, vice-director of the local public security department.
Li Xianhui, deputy head of the China National Narcotics Control Commission, said the real number of drug users is far higher than those registered. However, even the official statistics show that one in every 100 residents uses drugs, far higher than the national figure.
According to the commission, there were 3.23 million registered drug users in China as of June, roughly one of every 500 people in the country.
Luo Liangqing, mayor of Liangshan prefecture, said the use of drugs has resulted in a health disaster and a rash of crimes across the region. In Liangshan, about 60 percent of public security cases and 70 percent of criminal cases are related to drugs or involve drug abuse.
"Liangshan, on the border with Yunnan province, is a pathway for drugs smuggling from the Golden Triangle to China's interior. The convenient geography has resulted in a drugs market in Liangshan," he said.
Drug dealers take advantage of the deprived population, such as pregnant women, minors and disabled people, and make them into drug couriers, or mules, he added.
The area also has a history of opium cultivation because it was once under the control of the Yi people, who believed that the use of opium indicated refinement and often entertained guests with the drug.
Privileged people, mainly the wealthy or those with high social status, enjoyed opium, which the Yi also regarded as a treatment for illness, seemingly unaware of the harm it caused.