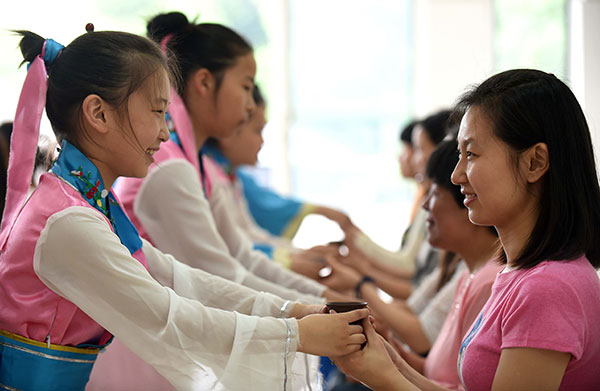 Primary school students dressed in traditional costume serve tea to their mothers before Mother's Day in Hefei, Anhui province. [Xie Chen / for China Daily]
The concept of filial piety, once a core value in China, is waning rapidly in the wake of the country's growing industrial power. However, heavy-handed attempts to reinstate the practice have sparked headlines and criticism, as Xin Dingding reports.
Lyu Meiye, the owner of a beauty salon in Guangzhou, Guangdong province, has stopped taking calls and has refused all requests for interviews after unguarded comments about her "filial piety tax" sparked headlines in China and across the world.
While being interviewed for a newspaper article about filial piety - a core tenet of Confucianism - in October, Lyu disclosed that every month she deducts 10 percent from the salaries of unmarried employees and 5 percent from those of married staff members and wires the money directly to their parents. The policy is made clear to every potential recruit, she said, and "those who disagree will not be hired".
Lyu was surprised and shocked by the criticism she received in the media and on social-networking platforms, according to a salon employee who preferred not to be named. The salon owner believed her actions were well-intentioned. She intended to remind young people of a practice that once was a key aspect of Chinese society - whereby children were required to show their parents unfailing respect - but has declined as a result of social and cultural changes prompted by the country's development in the past 35 years.
The news that the company compensates employees by providing subsidies of 100 yuan ($15) per month for those in their second year of employment, rising to 300 yuan for workers who have been with the company for three years or longer, failed to dampen the criticism Lyu received.
One of the most serious complaints was related to the legality of the policy. Tang Yi, a lawyer in Shanghai, was quoted in a news report as saying that a person's salary is their personal property, and without the owner's permission, no outsider is allowed to tamper with it, not even an employer. Furthermore, even if Lyu's policy is legal - providing the employee agrees to the practice before starting work - the fact that those who disagree are deemed not worth hiring may also contravene employment law.
The authorities have yet to make a decision, but the furor prompted many people to ask if the influence of filial piety has waned so much that young people need to be compelled to honor their parents.
A Confucian ideal
The concept of filial piety, known as xiao in Chinese, was introduced by the sage Confucius (551-479 BC), whose school of thought dominated Chinese life for thousands of years. Under the concept, when younger family members start work, they are duty-bound to care for their elderly parents by providing funds, either every month or as a lump sum during family reunions at Chinese New Year.
The Classic of Filial Piety, an orthodox Confucian text, consists of a series of conversations between Confucius and Zeng Zi, a disciple, and according to Confucian doctrine, our bodies are gifts from our parents, so children must not attempt to harm them, but should seek to bring them honor.
Although no research has been undertaken to determine the strength of filial piety in modern China, many young people don't consider it to be a duty nowadays.
Lai Jiaming, a waiter in Shenzhen, Guangdong, left his home in the rural area of Heyuan six years ago, but he has never sent money to his parents. He sees nothing wrong with that, though, "because most of my peers are doing the same".