Data developments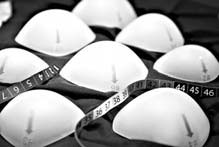 An improved fitting system for bras was eight years in development. Daniel Borris for The New York Times
Modern design technology is also being used more widely in the clothing industry, and 3-D screening techniques and other developments are providing far more accurate data about body types.
"Current motion-capture technology collects the data very precisely. That means we can make certain items, such as sports dresses and lingerie, more comfortable to wear," Aimer's Zheng said. "But in the future, as demand rises and the underwear industry develops, an even greater range of options will be available in the domestic market."
According to the China Enterprises Consultancy Network, underwear sales in China hit more than 100 billion yuan ($16 billion) last year, and it's estimated they will soar by 20 percent annually for the next five years. This year alone, the value may rise to 500 billion yuan.
"People will expect far more, and their expectations of function and design will be become more refined. Some women prefer pushup bras, while others may choose thin, comfortable ones. The underwear industry will focus on wider sizing charts, and there will be a greater choice of both luxury and regular products," said Zhang Hongyu, Aimer's design director.
Zhang said women born after 1970 have a different perception of lingerie: "Compared with previous generations, they pay more attention to a healthy figure and they want to show off their curves using comfortable products, such as 'Shapewear', where the fabric helps to mold the curves, not hard bones."
She said Chinese women traditionally chose heavily padded bras, but change is inevitable as the influence of Western culture grows. "During our company's interviews with models, I discovered that women from Western countries showed more confidence and willingness to wear non-padded bras," Zhang said. "I believe that in time a lot more Chinese women will also begin to appreciate the natural beauty of their bodies, and a turning point like that will bring about a revolution in the country's underwear industry."