Chinese women are becoming fuller of figure thanks to a combination of social, physical and dietary changes that are overturning 'traditional' notions of national body types and may prompt a revolution in the lingerie industry. Yang Wanli reports.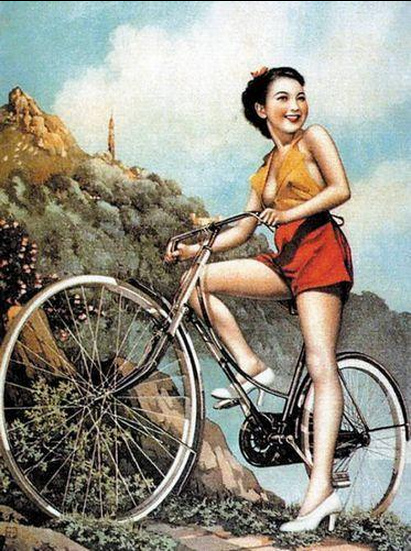 A photo on a calendar shows a woman dressed in modern clothes (1912-1949) [Photo/ifeng.com]
There is a long-established stereotype of Asian, especially Chinese, women. They are seen as caring, polite and gentle, usually heavily family oriented, soft-spoken and with a gentle demeanor that conveys great charm. Physically, they are usually described as fragile, dainty and slender with small breasts, a notion underlined by a map widely circulated by Google in 2012 that showed the average cup size for bras was A.
A quarter of a century ago, Wu Xiaoyu would have been the exception that proved the rule in China. Her breasts didn't stop growing until she was 22, by which time her bra size was 36D, far larger than those of any of her friends or former classmates.
"At the very beginning I was so proud. Other girls were jealous of me. Every time they discussed bras, especially the ones that can make the breasts look bigger, I just said, 'I really need a flimsy cotton bra'," the 30-year-old said.
Great expectations, limited options
But Wu's quiet pride was soon knocked by a series of embarrassing incidents and the discovery that her choice of bras was extremely limited, and those that were available did little to enhance her feelings of femininity. "Bras with big cups, like mine, are rare in China. Even if you can find the perfect fit, there only a few colors or styles, usually no more than three," she said. "I have to buy them all because they're my only options, but nowadays women expect more from their underwear than just a comfortable fit."
Wu was also frustrated when she wore low-cut V-neck tops because passing men leered and made suggestive remarks. "Sometimes, I could see a filthy smile hovering on their lips, which always killed my happy mood," she said.
She said her cousin, who has an equally full figure, has also been subjected to crude remarks, and even worse treatment. "My aunt thought my cousin was too physically mature for her age, and forced her to bind her breasts, which she did until she left home and went to college. It's hard to believe something like that could happen in modern society," Wu said.
In 2007, Wu graduated and moved to the United Kingdom. She was surprised to discover that her new home was, in her own words, "a wonderland" for busty women.
She said the range of bra sizes, from AA to E, or even larger, was much wider than in China, and the choice of styles and colors was also far more varied. "More important, I could walk along the street confident that no one would stare or shout at me, even if I was wearing a low-cut V-neck," she said.
In early 2014, Wu returned to China and had her first baby. Amid the joy, though, another problem arose. During pregnancy, the body produces the sex hormone estrogen, which helps to determine breast growth. Wu's breasts swelled until her cup size became an E, making it almost impossible for her to find a suitable bra in the domestic market. Although she considered buying bras on the Internet, she was wary of doing so because different companies use different sizing scales and each brand has its own design quirks that can render the bras uncomfortable or ill fitting and may result in back pain and other physical problems.
"I plan to stay and work in China, but I have a problem finding underwear suitable for a smart office environment. Lots of women secretly want a fuller figure, but they have no idea how much trouble it can cause," Wu said.