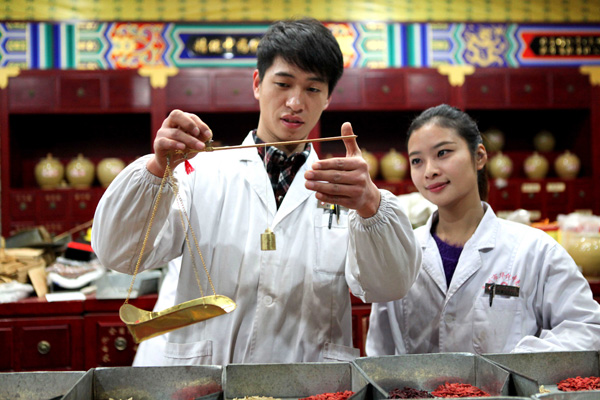 The Dongzhi Festival marks the start of the coldest period of winter, so people buy choose Chinese traditional medicines to ensure good health. LIU QINLI/CHINA DAILY
Changing times
For Beijing native Liu Hongfei, the winter solstice will always be associated with the taste of dumplings. "Dumplings are a must," the 33-year-old said, although he admitted he had no idea why they are synonymous with the festival.
Although dongzhi was once one of the most important holidays in China, its lower profile in recent years means people are no longer allowed to take a day off work to celebrate it.
Zhang Ting, also from Beijing, said: "The winter solstice was a very important holiday during the Tang dynasty (AD 618-907), but the tradition has faded."
As a folklore enthusiast, she still likes to celebrate by eating dumplings, "but when I am inundated with work, I just let it go. When people ceased to work the land for a living, we stopped using the lunar year as a calendar and began using clocks and watches."
Xiao Fang, a professor at Beijing Normal University who specializes in the study of folklore, said regional differences in traditions are a result of China's vast size, and the variations in food reflects the prevalent crops in different parts of the country: "The winter solstice is one of 24 solar periods of the Chinese calendar. Different places have different customs because of different geological conditions and climates.
"Although the food varies, people's expectations of the spring and warm weather are the same," he said, adding that in days gone by, people believed that once the winter solstice had passed, the Earth began to warm up.
"People living in modern, industrial societies have a looser connection with seasonal changes," he said to explain the festival's relative decline.
However, he believes the festival should still be observed as a cultural tradition that helps people reconnect with the natural world. "It's much more interesting to enjoy our culture through a good understanding of the traditional world," he said.
Contact the writers at luowangshu@chinadaily.com.cn and zhaoxinying@chinadaily.com.cn