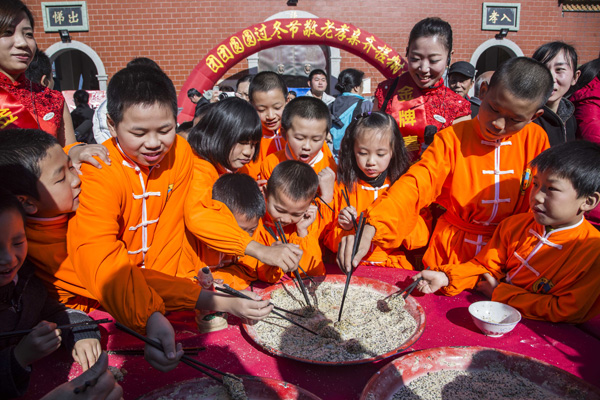 In the south of China, people like to eat tangyuan on the day of the winter solstice, or dongzhi. The dish is made from glutinous rice flour mixed with a small amount of water to form balls. YANG E'NA/CHINA DAILY

The winter solstice, which marks the shortest day and the longest night, is a time of celebration as the seasons change and winter begins to ebb, report Luo Wangshu and Zhao Xinying.
When Li Xiangbo thinks back to his childhood, he remembers the winter solstice, or dongzhi, as being more important than his birthday.
"It was a big holiday in my family because it was the start of the annual Chinese New Year holiday under the lunar calendar. My mom prepared for days in advance every year," the 25-year-old said, remembering a combination of delicious food and the observance of rituals to worship the family's ancestors.
"My mom once forgot my birthday, which fell on the same day that year, because she was so busy preparing for the solstice. The funniest part was that no one in my family remembered until two days later. I even forgot about it myself," he said.
In the lunar calendar, the solstice falls on Dec 21, 22 or 23-depending on which has the shortest day and longest night-and is nominally the coldest day of the year.
Although the festival is no longer as important as before, families across China still celebrate in a traditional manner, and with a variety of regional delicacies, including sweet rice balls and dumplings, depending on local traditions.
When Li, from Shantou, Guangdong province, was a child, he always had a bowl of homemade sweet rice-ball soup as soon as he awoke on solstice morning.
"Usually, sweet rice balls are made with white, glutinous rice. But on winter solstice, my mom would put a few red rice balls in the soup along with the white ones, to make it look pretty and wish everyone good luck," Li said, adding that some families would even stick rice balls on their front doors because "it might banish devils and bring good luck".
Li's family still worships their ancestors during dongzhi by burning incense and honoring their memory. "It was a fun time for me as a child. Mom would cook a lot of delicious food, including some complicated dishes we didn't get to eat on 'ordinary' days," he said.
"All the people with the surname Li gathered together for a banquet at the Li ancestral temple, and some of the better-off members of the family would cover the cost," he added.
Traditional fare
Liu Liu, who is from a small town in the north of Jiangsu province, recalled that when she was young and lived with her parents, her father celebrated the solstice by cooking a wide range of dishes, the most important of which was always mutton soup. "It's traditional in north Jiangsu to have hot mutton soup at winter solstice because it gives warmth and energy to people facing a long, cold winter," she said.
The 28-year-old now works in Nanjing, the capital of Jiangsu, but she still celebrates the festival. However, living far from her hometown means she's unable to obtain the traditional ingredients for the soup, so over the years she's adopted dishes from other provinces and regions, such as dumplings and glutinous rice balls, which can be bought at almost any supermarket.
"I still celebrate the day, even though I don't have the soup. Celebrating the festival makes me feel I'm with my parents, even though we're miles apart," she said.
Liu's father treats dongzhi as one of the most important days of the year, second only to Spring Festival, the start of China's new year.
"After I left home for college in another province, at every winter solstice my father would telephone to make sure I had dumplings or glutinous rice balls on the day itself," she said. "Now I've developed the habit of having this sort of food at solstice, even without the reminders from my father."
However, the way in which the festival is observed differs widely across China, and even within the same province. For example, Liu's hometown is in the part of Jiangsu that lies north of the Yangzte River, and is usually deemed to be in North China, while the area south of the river is seen as part of South China and has different dialects, traditions, and eating habits.
Ping Yingchun, from Nantong in South Jiangsu, said the local people eat large, homemade glutinous rice balls to celebrate the solstice. "The balls, stuffed with peanuts, sesame seeds, sugar, and pig's lard, are usually as big as an adult's fist. Even if you only eat two, you will be full and satisfied," the 27-year-old office worker said. "They're so delicious. I like them very much."
He said the people in his hometown still treat the solstice as an important day that's perfect for significant events, such as worshipping one's ancestors, getting married, or installing the crossbeam in a house under construction. "It's a day for families to get together. I can still remember how happy and excited I was as a young kid," he said.
Ping's heavy workload in Shanghai means he rarely has the chance to enjoy dongzhi with his family, and he misses the tasty rice balls and the good old days of celebrating with people at home. "Last year, I went home early and brought back several rice balls made by my parents, and shared them with friends on the winter solstice," he said. "It's a sort of comfort."
This year he won't have time for a trip home, which means he'll miss out on his favorite rice balls. "I'll probably have to spend the day just like any other," he said, with disappointment.