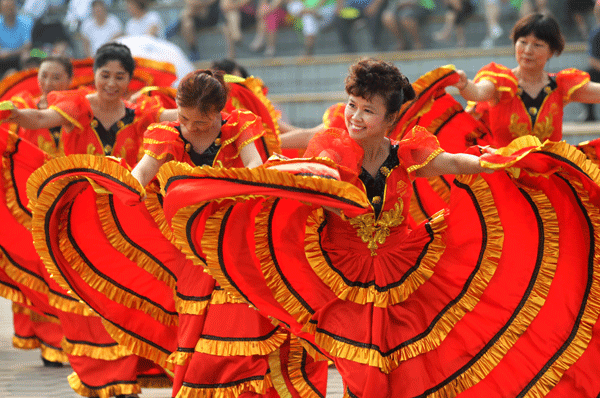 Residents perform a square dance during the "Who Is the Most Beautiful Woman?" competition in Chaoyang Park in Beijing. The dance craze has become popular throughout China, but the loud music and large numbers of people who congregate in public places have prompted many complaints. Zou Hong / China Daily
Growing popularity
"At the beginning, there weren't many of us, and we just danced for fun, to enjoy ourselves, but as time progressed, people from the neighborhood began to join in too," Kong said.
The dance group now has more than 300 members, most of them women in their 40s and 50s, and the regular exercise has seen Kong's weight fall to about 65 kg.
"Most of the other groups require the members to pay a subscription to cover the cost of hiring facilities and to pay for the electricity. In my group, though, I cover all the expenses myself.
In 2010, Kong's community was Anhui's largest-ever relocation project, a record that stood until last month when an even larger community project was completed just a few hundred meters from Yicheng, which now has a population of 40,000.
Liu Fengyun, a local community official, said the dance group has played a major part in making the relocation a success: "The square dance is not only one of the most convenient and popular ways to exercise, but more importantly, it's a new cultural phenomenon that has helped people adapt to their new lives."
Before Kong and her friends moved into the high-rise apartment blocks in Baohe, most of them led typical village lives.
"The houses were not as close to one another as the apartment buildings here, but we had closer relations in the village because it was more convenient to visit our neighbors' homes, and we felt free to do so," Kong said
"Every household left their door open as long as someone was at home. Now, in the apartment buildings, everything has become much more complicated. We don't really know about each other's lives behind those tightly closed doors."
Because most residents no longer have fields to tend, they have to seek work in the city, but few have received a good education or have technical skills to exploit. As a result, many become doorkeepers, street cleaners, or supermarket workers, while others stay at home to help the family raise the grandchildren. However, the money the residents received as relocation compensation has alleviated most of their financial concerns.
"One thing is certain: With our new apartments and the demolition compensation we got from the government, we became 'rich' almost overnight," according to Kong, who believes that "life needs some fun", and thinks square dancing is the best way to make people happy and build a contented community.
Xu Xinchun, a member of Kong's group, said: "We feel that we are even closer to one another during the dances. Without the square dance, we would be so lonely."
The growing popularity of the dance led Kong to choose 30 of the most enthusiastic and agile members of her group to form a professional team that participates in square dance competitions in Hefei.
"The competitions are mainly organized by either the local communities or real estate developers", Kong said, adding that her team has won four first prizes this year alone.