A popular dance trend that's swept across China has helped relocated rural residents integrate in an unfamiliar environment, as Zhu Lixin reports from Hefei, Anhui province.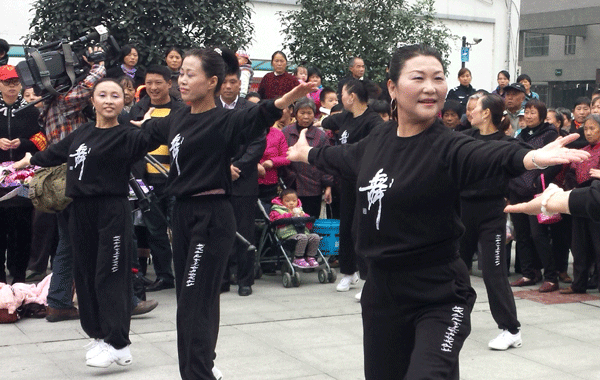 Kong Zhengnian (center) and her dance group perform for their neighbors. Kong is the founder and head of a 300-member square dance troupe in the Yicheng subdistrict of Baohe in Hefei, Anhui province. Zhu Lixin / China Daily
For many middle-aged Chinese women, the square dance, a type of line dancing performed in public squares, is a popular form of exercise, but for people who have relocated from the countryside to the city, it's also an important social activity that promotes community spirit.
As founder and head of a 300-member square dance troupe, Kong Zhengnian, a resident of the Baohe district of Hefei, the capital of East China's Anhui province, is a popular figure among the community, which was relocated a couple of hundred meters to Yicheng township in Hefei in 2010.
"She has not only shown us a new way of exercising, but also created a new social connection among us old neighbors and friends, which helps to make the new city life feel less alien," Huang Xiaoyun, a 50-something member of Kong's dance group, said.
When Kong and her neighbors were relocated to the city four years ago, the 51-year-old was concerned about the fact that she weighed almost 90 kilograms. "It made me feel inferior to other people, but the square dance helped me rediscover my self-confidence", she said.
Although she had never heard of the dance before moving to the city, Kong was entranced at first sight. However, her weight held her back: "I participated in some of the dances, but it was difficult to follow the other dancers, and some of them even laughed at me and called me stupid and fat."
In response, Kong decided to establish a troupe of her own. Her high school education makes her one of the best-educated people in her community, in which most of the middle-aged women are semi-literate at best. Kong used the computer skills she had painstakingly learned over several years to search for videos of square dancing, and then taught herself the steps.
When she had mastered the dance, Kong bought a music player and an electric extension cable and set up the equipment in the local community square so she and her friends could dance almost every night.