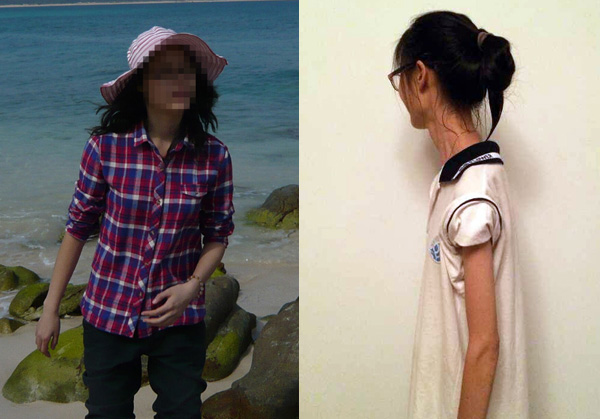 Song Xue from Suzhou of Jiangsu province is pictured before losing weight and now, weighing only 39 kg. XUE MAYI/CHINA DAILY
More needed to help rising number of patients suffering from eating disorders, Cang Wei reports in Wuxi, Jiangsu
At 1.69 meters tall and weighing just 39 kilograms, Song Xue is grossly underweight.
SUGGESTED DAILY FOOD INTAKE
The Chinese Nutrition Society's "nutrition pyramid" recommends four main kinds of food that should make up daily meals.
The first layer of the pyramid combines grains and beans. It suggests 400 to 500 grams of these for each person and the proportion of grains to beans should be 10:1.
Vegetables and fruits form the second layer. The suggested amount of these foods are 300 to 400 grams and the proportion of vegetables to fruits should be 8:1.
The third layer is made up of milk and dairy products to provide quality protein and calcium. The society suggests taking 200 to 300 grams of these a day.
The fourth layer combines meat or other forms of foods from animals including eggs, fish and poultry. The suggested daily amount is 100 to 200 grams.
Oil, salt and sugar, which form the top of the pyramid, should be consumed in the least amounts.
The 19-year-old woman lives in Suzhou of Jiangsu province, together with her parents. Song started dieting to lose weight when she was 17, after learning that some classmates were doing so to "look better".
"I didn't consider myself too fat at the time, but I wanted to do something together with the other girls," Song said.
She began to eat less for breakfast and dinner. She skipped lunch totally.
"Several months later, my weight dropped from 55 kilograms to 50 kilograms," Song said. "The dieting really worked, but the most amazing thing was that I didn't feel hungry frequently.
"Now I know I was really stupid to consider that amazing."
As she continued to diet, Song began to suffer from intestinal disorders-she had diarrhea when she took laxatives but was constipated when she did not. When she started suffering from missed menstrual periods, she told her parents about her dieting and sought help.
"I'm no more than a skeleton," Song said.
"I'm not even the walking dead because I can barely walk. Walking makes me feel exhausted."
The family sought treatment in Suzhou, Wuxi and Shanghai, but found that the medication given by doctors could work for only about a week.
"After consulting many hospitals, my daughter was finally diagnosed with anorexia nervosa," said Song Sheng, the girl's father, who is a taxi driver.
He said the family has spent nearly 400,000 yuan ($65,100) to treat his daughter's eating disorder.