Call for safe sex
In Beijing, more than 93 percent of the newly detected HIV/AIDS cases by the end of June were transmitted via sex, and more than 72 percent of those involved MSM, figures from the city's Health and Family Planning Commission showed.
The proportion of newly discovered cases infected via gay sex spiked from 22.8 percent in 2006 to 72.7 percent by the end of June.
"The key groups for intervention remain sexually active gay men and people involved in extramarital sex or prostitution," Lu said.
"Many from the group are aware of the importance of safe sex, but it's hard for them to transform that into practice," she said.
Xiao agreed, citing the rising importance of cultural and socioeconomic factors while delivering the right intervention.
Before Valentine's Day, his group sends out short messages promoting safe sex, he said.
Wu Zunyou, citing a rising HIV trend among the elderly. said, "Social changes have brought new challenges as well."
Seniors in rural areas left behind by children seeking better job opportunities in cities have been found seeking prostitution and contracting HIV, he said.
"They don't care at such an age and seldom compromise 'happiness' for safe sex by condom use while patronizing sex workers," he said.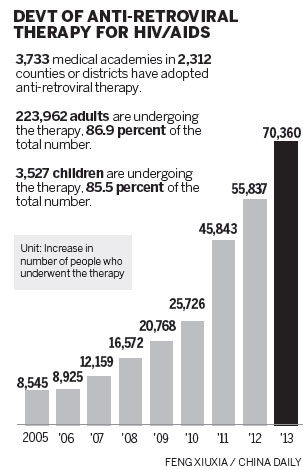 Wu conceded that they lacked methods to cope with such emerging trends.
He also expected more HIV cases among the elderly, citing longer life expectancy and better health.
Good intervention always comes as a package and the international community is gearing up in HIV/AIDS control.
The 2014 World AIDS Conference, held in late July in Melbourne, Australia, saw the launch by UNAIDS of a strategy to eliminate AIDS by 2030.
This included a "90-90-90 campaign" detailing new targets for testing and treatment.
The target refers to three key steps that are essential to better health and care for HIV-positive people and to limiting new infections and the further spread of HIV - 90 percent of people living with HIV should know their status, 90 percent of all those who are diagnosed with HIV/AIDS should get anti-retroviral therapy (ART), and 90 percent of those on ART should have an undetectable viral load.
But Wu Zunyou said the country still faces huge challenges.
Fifty-four percent of HIV sufferers in China know of their condition compared with 75 percent in the US, figures from China CDC showed.
"The worldwide average for the figure stands at 30 to 50 percent and it's hard to reach a 90 percent target," he said.
As for the goal in treatment, Zhao Yan, deputy director of the center's treatment and care division, cited rejections by some patients and the potential side effects from the ART drugs.
"Reaching 70 to 80 percent is satisfactory even in developed countries," Zhao said.
Currently, 51 percent of detected Chinese sufferers are put on ART, official statistics showed.
But the third "90 percent" target is "highly possible", Zhao said.
In China, 85 to 86 percent of those on treatment had their viral load under good control in the past three years, she said.
Contact the writer at shanjuan@chinadaily.com.cn