HK must better protect young people from AIDS
Updated: 2014-09-09 06:59
By Fung Keung(HK Edition)
| | | | | | | | | |
| --- | --- | --- | --- | --- | --- | --- | --- | --- |
|   | | Print | | Mail | | Large Medium  Small | 分享按钮 | 0 |

It begs the question, why? Why are so many young people contracting human immunodeficiency virus (HIV) in Hong Kong today while about half of them will eventually suffer, or even die from, acquired immune-deficiency syndrome(AIDS)?
With advances in science and medical facilities and resources improving in this city over the past three decades, it really amazes me to see numbers of HIV infections jump to 600 cases (projected by the government) by the end of the year from just 20 in 1984. Last year's figure of 559 cases was a nine percent increase on the 513 infections seen in 2012. Why are HIV cases surging year after year?
The government reported in late August that some 304 new HIV cases were diagnosed in the first half of the year, up 16 percent from the 262 new cases reported in the same period last year.
What is more worrying is that 59 of the 150 people (40 percent) diagnosed with HIV in the second quarter were aged 29 or younger. This high percentage of young people contracting HIV is disturbing. I am relieved that the government has set aside funding for treating HIV and AIDS patients. Some clinics even have beautiful names unrelated to HIV or AIDS to protect the identities of those walking in for checkups or seeking treatment.
A Department of Health survey in 2013 found that only 70 percent of gay men wore a condom during sex, compared to 90 percent of male customers "visiting" female sex workers. Of the 150 new cases reported between April and June, more than 80 percent were men, of whom more than half had had sex with other men.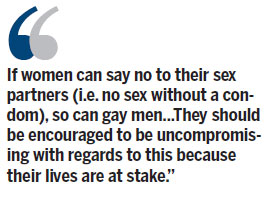 As the government has identified gay men as a particularly high-risk group, clearly more funding should be directed towards promoting safe sex among gay men. Funding could be channeled towards non-government organizations (NGOs) such as AIDS Concern and the Hong Kong AIDS Foundation. This is to emphasize publicizing the importance of wearing a condom while having sex. If women can say no to their sex partners (i.e. no sex without a condom), so can gay men. They should try to ensure their gay partners wear condoms. They should be encouraged to be uncompromising with regards to this because their lives are at stake. Some of the ignorant ones may not even be aware that having sex without a condom can transmit HIV.
In this age of the Internet and mobile apps, I am sure some young men, including male teenagers and school boys, are peddling their sex services on social websites in order to make some fast money. Some may need money to pay school fees or to survive, but the majority, I believe, are selling their bodies for pocket money to buy luxury items. They engage in unsafe gay sex without the knowledge of their family members. (They invariably argue that parents have no right to check their Internet accounts or mobile phone messages.)
The government and NGOs should attempt to approach this vulnerable group of young people, offering counseling, financial help of various kinds while promoting safe sex. Helping these young men will unquestionably reduce the numbers of them contracting HIV, and (some of them) eventually dying from AIDS.
Other social welfare organizations could assist too. Social workers and volunteers could visit pubs and bars in Wan Chai, Lan Kwai Fong and Tsim Sha Tsui and hand out pamphlets to young men. These should promote safe sex and advise them of other ways to seek financial help other selling their bodies.
Some of them may have actually been crying out for help for a long time. The sad story is that we don't often hear them. So it is time we helped them.
The writer teaches academic English writing to associate-degree and higher-diploma students in Beacon College.
(HK Edition 09/09/2014 page10)