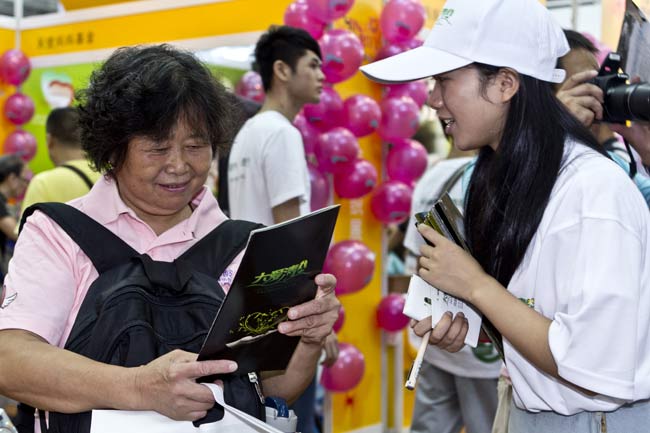 NGO Love Save Pneumoconiosis volunteers talk about the lung disease to Shenzhen residents at a charity exhibition in September 2013. PROVIDED TO CHINA DAILY
"I feel extremely sad when some young people die of the disease."
Compared with pneumoconiosis patients who work for State-owned enterprises, migrant workers, most of whom are not covered by insurance, lead a much harder life when they contract the disease.
Working to protect the vulnerable
By Cang Wei
When Wang Keqin founded his NGO to help patients suffering from pneumoconiosis, it faced impending doom less than two weeks into its work.
Wang and his team received donations of only 2,500 yuan ($408) in the first 13 days after it was set up in June 2011.
"We were about to collapse," Wang said. "At that time, some team members had no confidence in the future and wanted to give up."
But Wang soldiered on. He began to post frantically on his micro blog, telling the public about pneumoconiosis. He raised awareness of the pain that pneumoconiosis patients go through and the work of his Love Save Pneumoconiosis NGO, which aims to help the 6 million patients diagnosed with the lung disease.
Wang efforts have started to pay off. By July 2014, the NGO had raised 15.84 million yuan ($2.58 million). It had helped 1,137 patients and distributed 479 oxygenators by Aug 10.
Due to Wang's good reputation as a former reporter, in late June, Yao Chen, a famous Chinese actress, forwarded one of his posts and helped bring in large amounts of donations.
In the following month alone, the NGO managed to raise 400,000 yuan, which was used to help the first batch of lung disease patients in Sichuan province.
"We need to have confidence in ourselves because we're saving people's lives," Wang always tells his colleagues.
Most of them are his students. Wang is also a visiting professor teaching investigative journalism and new media at several universities.
In 2001, Wang risked his life to write a story about the stock market in Lanzhou, Gansu province, to protect the rights of investors. He had to send his family members far away to protect them from the local gangsters who offered 5 million yuan to get him killed.
During his years working as a reporter, Wang wrote many similar stories that put himself in danger but protected the rights of vulnerable groups such as AIDS patients, taxi drivers and babies being given various vaccines.
Wang now dedicates his life to pneumoconiosis patients, most of whom come from China's rural areas and cannot afford medical help.
"Since I founded Love Save Pneumoconiosis, I have never seen any enterprises taking responsibility to protect pneumoconiosis patients," Wang said.
"On the contrary, many of them abandoned the patients and prevented them from getting compensation.
"It's unrealistic for these pneumoconiosis patients to rely on the enterprises they worked for. Due to great financial burden, many of them are also abandoned by the community and their families," Wang said.
"Many of the patients are really living in hell," he said.
"We cannot watch other people die without doing anything. We should protect them because they are our brothers and sisters. They are human beings in need of help."
"Those workers of State-owned enterprises have the country to cover all their medical expenses," Wang Keqin said.
"They are fully covered for the treatment, receive compensation and enjoy recuperation in sanitariums that lasts three to six months every year."
"I've seen such workers who managed to live for 50 years after they were diagnosed with pneumoconiosis in their 30s. But migrant workers aren't that lucky. Most of them cannot even get compensation."
Under China's Law on the Prevention and Treatment of Occupational Diseases, three requirements must be met if the workers are confirmed to be suffering from the occupational disease - there must be employment contracts, employers' or three colleagues' testimony that thick dust exists in the work environment, and employers' application for the identification of the disease, Wang Keqin said.
Wang said the requirements were "nonsense".
"How can you expect those irresponsible enterprises to apply for the identification and pay the requisite compensation? Many patients feel that they have been abandoned by the country and by society."
A survey conducted by the Chinese Academy of Social Sciences in 2008 also showed that less than 5 percent of China's migrant workers signed contracts with their employers.
"The migrant workers contracting pneumoconiosis are even more vulnerable than those infected with AIDS," Wang said.
"Many AIDS patients have the ability, the platform and the channel to voice their demands because they come from different social classes. But the migrant workers only come from one social class - the lowest. They cannot voice their hardships and needs, so they get no attention and help."
Song Changxing, a 44-year-old pneumoconiosis patient, has spent about 200,000 yuan ($32,600) to treat his disease. His former workplace paid him less than 80,000 yuan after local police and the labor department participated in the negotiations for his compensation.
Song used to work for Kunshan Zhongrong Metal Products Co Ltd, where an explosion triggered by thick dust in its wheel-polishing workshop on Aug 2 claimed at least 75 lives and injured 185 others.
He started to suffer from nosebleeds and vomited large amounts of blood before he was diagnosed.
"I need help but I don't know how I can get it," Song said.
To help such migrant workers, Love Save Pneumoconiosis has taken them to hospitals, provided oxygenators to the patients and publicized the harmful effects of thick dust.
"We noticed that many workers knew nothing about pneumoconiosis even when they were diagnosed with it," said Wang Xiaoxiao, an employee of the NGO.
"We hope the publicity can make them more aware of the harm that the dust can cause.
"We also provide counseling to alleviate their psychological problems. We not only want them to be healthy physically, but also psychologically."
The NGO has six full-time workers in Beijing and Hangzhou, more than 4,000 volunteers and 36 branches across the country.
But Wang Xiaoxiao admitted that she might not work for the NGO for a long time.
"Most employees get only 3,000 yuan a month. I'm single now and I can live with that. But after I get married and have a baby, I cannot support my family with such a salary."
In a report on the living conditions of China's migrant workers with pneumoconiosis, issued by the NGO in July, it suggested that every migrant contracting pneumoconiosis should be covered by occupational injury insurance, whether they buy insurance or not.
It also said that a special fund should be set up by the country, and that enterprises should take more responsibility to protect the rights of migrant workers.
Wang Liangxu from the Chinese Medical Doctor Association said that dust suppression measures must be taken in enterprises and mines, and that strict operational regulations must be followed.
"Workers should have physical examinations regularly and tuberculosis prevention work must be enhanced in dust-related workplaces."
"An NGO's effort is far from enough," Wang Keqin said. "Strict regulations and laws must be made to prevent those irresponsible enterprises from harming the migrant workers."
In Wang Keqin's micro blog, he mentioned many times the story of a little boy who sends dying fish back into the ocean.
Numerous fish left on the beach by the ebb tide lie gasping and dying, but the boy can only throw them into the ocean one by one. Some people laugh at the boy, saying that his efforts are meaningless. Nobody cares what he does.
The boy answers as he throws a fish back into the sea: "This fish cares, and that fish also cares."
"We cannot save all of them," Wang said.
"But saving one is better than none."
Contact the writer at cangwei@chinadaily.com.cn