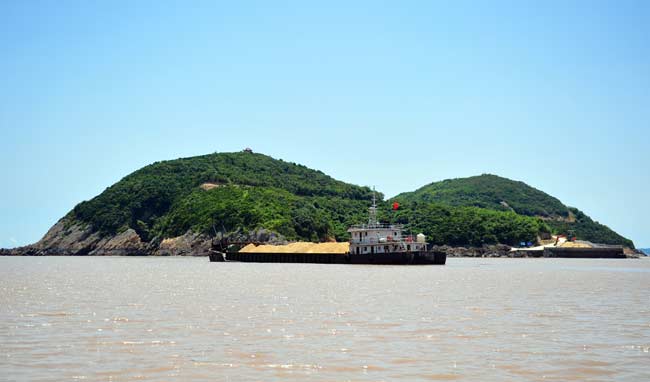 Dayangyu Island of Ningbo, Zhejiang province is seen on Aug 7. Dayangyu is one of the country's first group of uninhabited islands open to public bidding. PHOTO BY SHI XIAOFENG / CHINA DAILY
Initiative to attract private developers for uninhabited islands hits rough waters, report Yan Yiqi and Shi Xiaofeng in Ningbo, Zhejiang province.
Successes abroad
China's development of its uninhabited islands is still in its infancy. While the country is focusing on how to balance sustainable development and attract investment, a number of other countries have been successful in such projects.
The Maldives, which contains more than 1,200 islands, is regarded as one of the most successful examples of developing its islands for tourism.
Experts say the development of an uninhabited island should be carried out by a single investor. Only one hotel should be allowed on the island. Each island should be limited to one architectural style and one culture. It should also be equipped with one complete entertainment and service facility.
To maintain the original shape of the islands, they say construction should also be limited to two stories and should not cover more than 20 percent of the islands' total area.
The island country of Fiji encourages foreign investors to develop its uninhabited islands, especially remote ones. The country has 322 islands and 216 of them are uninhabited. The price of an island with well-developed infrastructure can cost up to 80 yuan ($12.9) per square meter. For remote and underdeveloped islands, the country has preferential policies for its developers. Prices are almost half of the well-developed ones.
In Spain, most islands can be privately owned. It has very few restrictions for foreigners purchasing its islands. However, Spain does not allow island owners to carry out construction on undeveloped islands.
Apart from developing uninhabited islands into tourist attractions, some countries have also successfully developed industrial islands. Singapore's Jurong Island was formed by combining seven small, uninhabited islands and it is now a hub for the petrochemical industry. It is considered a perfect illustration of balancing heavy industry with a good environment.
- China Daily
Almost three years ago, Yang Weihua successfully bid for the 50-year rights to an uninhabited island in Zhejiang province.
With her 20 million yuan ($3.26 million) bid, Yang became the first tenant in an inaugural batch of 176 uninhabited islands that the country approved in a novel move to attract domestic and foreign investment for development in 2011.
Yang, the general manager of Ningbo Gaobao Investment Co, remembered she could hardly contain her excitement when she won the rights to Dayangyu Island.
But the buzz she felt from "owning" such an unprecedented piece of property is fizzling out, just when construction on it rolls out.
"You think having an island means cruising on a yacht, sipping cocktails on your private beach and lounging in a villa with an ocean view? That's what happens in Hollywood movies," Yang said.
"For me, I never imagined that developing an island could be this difficult."
Yang bid for Dayangyu on Nov 11, 2011, in an open auction. It was not until March 2013 that she received the certificate of her rights to the island, which meant she could finally start construction on it.
"Getting approval for development plans from all levels of government departments took such a long time. I guess the country does not have standard regulations on island development yet," she said.
Dayangyu is in Xiangshan county of Ningbo. It covers an area of 265,000 square meters with a coastline of about 3,000 meters. It combines three uplands and two natural beaches.
Its shortest distance from the mainland is 300 meters.
Under Xiangshan regulations, only 25 percent of Dayangyu can be used for buildings. The rest of its land must be kept in its original condition.
Yang planned to build a yacht club and boutique hotel with 500 million yuan.
When construction began on May 25, Yang realized that 500 million yuan might not be enough.
"The island's natural features can not only slow down building, it can also add to costs," she said.
Although the island is close to the mainland, ships are still needed to ferry workers and construction materials.
"We have to wait for suitable tide condition to transport materials. Items like bricks might be broken or damaged by the time they get to the island," she said.
The construction was scheduled to be complete by the end of next year, but Yang said she is not sure if that is possible.
July to September is typhoon season. Facing the East China Sea, Xiangshan can bear the brunt of the storms.
When typhoons hit, all construction must stop and workers have to seek shelter on the mainland.
"It is all up to nature," Yang said.
Staying afloat
Keeping the development afloat after it is completed is another issue.
In 2004, Chen Xiaoxian, general manager of Dongtou Huyu Oceanic Resource Development Co, signed a lease with Dongtou county to develop its Zhuyu island in Wenzhou.
Chen invested 30 million yuan in the island to build a vacation spot. Most of the investment was for infrastructure construction. But the development operated for only half a year and the income could barely cover annual maintenance costs.
When her five-year lease ran out, Chen called it quits. She said that Chinese tourists were not ready for island-style vacations.
"Developing an island is not for everyone. Only those with big dreams and large amounts of cash - at least 100 million yuan - can handle it," she said.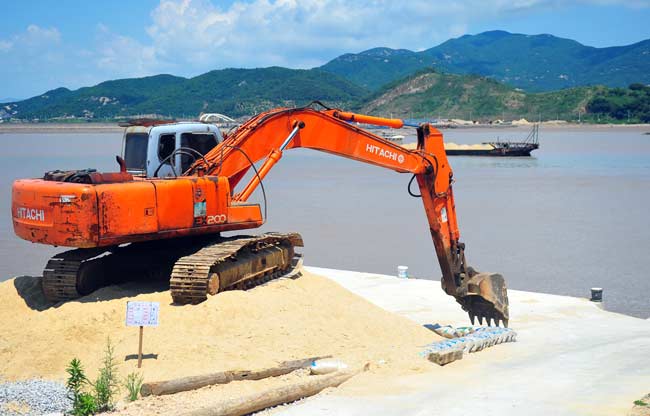 Construction workers lay the groundwork for a project on Dayangyu Island on Aug 7. PHOTO BY SHI XIAOFENG / CHINA DAILY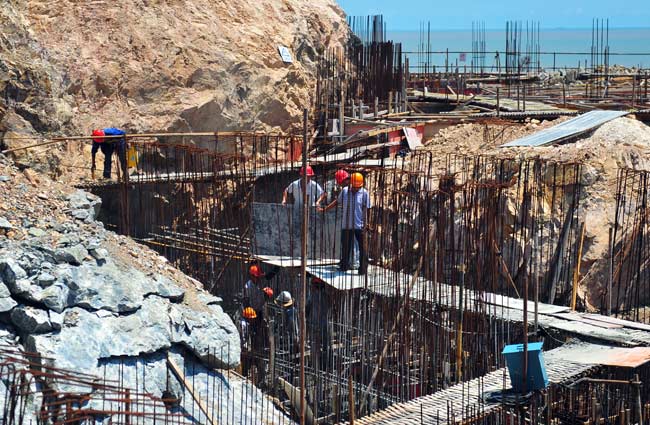 An excavator working on the latest development on Dayangyu Island on Aug 7. PHOTO BY SHI XIAOFENG / CHINA DAILY