Chinese medical workers overcome difficulties to help typhoon survivors, reports Peng Yining in Tacloban, Philippines
It was 8 pm in Tacloban. An ambulance screeched to a halt, its lights flashing, and a man was carried out on a stretcher. His face and chest were covered with blood.
Chen Ruifeng, a 37-year-old emergency surgeon, ran out from a tent and escorted the man to an emergency room. Water dripped from the leaking ceiling as the rain began again. Chen placed a plastic basket under the drops and returned to his patient.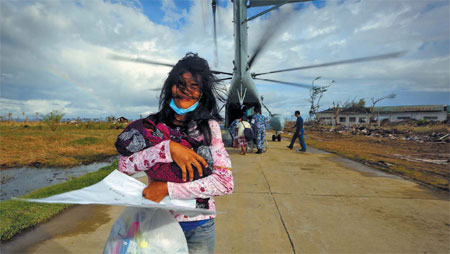 A Tacloban resident returns home with her baby, who had been receiving treatment aboard the Chinese hospital ship, Peace Ark. Ju Zhenhua / for China Daily
Tacloban has been without power since Super Typhoon Haiyan tore through the area in early November, with winds up to 378 kilometers an hour, ripping down power lines and driving seawater several kilometers inland.
The death toll in the Philippines is in excess of 5,700, and the figure is likely to rise.
The patient was a 19-year-old man. He had been driving when his car collided with a motorbike, catapulting him into the windshield, which shattered and caused serious injuries to his face and hands.
He was one of more than a hundred patients Chen had treated in a temporary field hospital set up by the Chinese hospital ship Peace Ark.
Before arriving at the hospital, the young man had been sent to three local medical facilities, but none of them had the supplies or equipment to treat his wounds properly.
Several of his front teeth had been shattered in the accident and fragments had been driven into his lips. Large pieces of windshield glass were embedded in his face and hands.
Chen, who has worked at the PLA Navy General Hospital for more than 14 years, used 60 stitches to sew up the wounds in and around the patient's mouth.
"We might need to send him to the ship for further treatment and probably a CT scan, as I am worried the crash might have injured his brain," said the surgeon, as he used tweezers to extract glass from the man's left hand.
Out in the field
On Nov 26, the day after the Peace Ark arrived on a disaster relief mission in the Gulf of Leyte, the ship's medical team set up a field hospital in the grounds of Leyte Provincial Hospital, known locally as the LPH. The temporary facility consists of seven huge tents and is staffed by more than 20 medical professionals equipped with a wide range of technology.
The role it plays is just as important as that of the Peace Ark, according to Liu Di, deputy director of the PLA navy's health department, who is head of the field hospital.
"It's located in the area that sustained the worst damage and where medical services are most needed. Because of that, we're able to give patients basic treatment before they are sent to the hospital ship, if that's necessary," he said. "So we have two hospitals, one on the ocean and one on land."