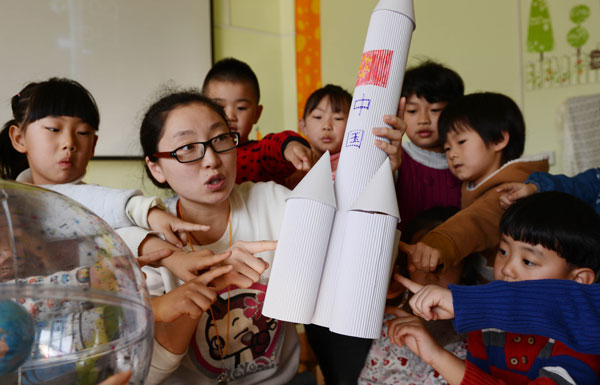 A teacher explains how a Long March rocket works at a kindergarten in Dongying, Shandong province, on Monday. Liu Zhifeng / China News Service


Successful launch of lunar probe paves the way for a soft landing on the moon, report Zhao Lei in Xichang, Sichuan province, Fu Jing in Brussels, Chen Jia in San Francisco and Zhao Huanxin in Beijing.
The launch of the Chang'e-3 lunar probe early on Monday morning attracted worldwide attention, with the European Space Agency and a number of academics in the United States predicting that the mission will bring new advances and closer cooperation.
Chang'e-3 was sent into space on schedule at 1:30 am at the Xichang Satellite Launch Center in Sichuan province.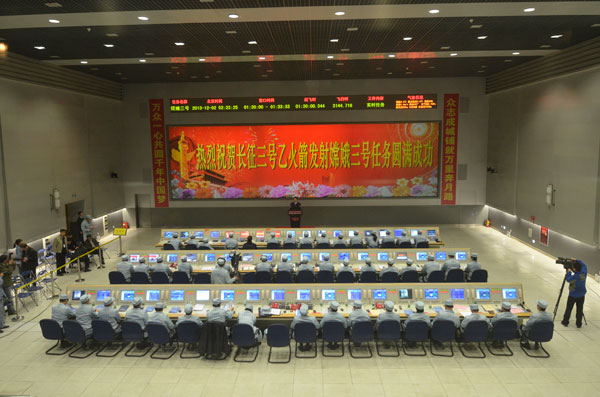 Scientists at mission control in Xichang, Sichuan province, are congratulated on the successful launch of Chang'e-3. [Photo/Xinhua]
Just 10 seconds after the rocket blasted off from the launch pad, it swerved southeastward and gradually became a shining point in the sky.
"The probe has already entered the designated orbit, so I can now announce that the launch was successful," said Zhang Zhenzhong, director of the launch center.
Immediately after liftoff, a European Space Agency station in Kourou, French Guiana, began receiving signals from the mission and uploaded commands on behalf of the Chinese control center.
Chang'e-3, named after the goddess of the moon in Chinese folklore, is scheduled to touch down on the moon on Dec 14 in the Sinus Iridum, the Bay of Rainbows.
The probe is carrying Yutu, or "Jade Rabbit", China's first lunar rover, named after the pet rabbit of the moon goddess in the legend.
The launch proceeded exactly on schedule and at the precise time set by the scientists, said Sun Baowei, an official at the launch center.
In the context of spaceflight, a launch window is a predetermined optimal time during which a rocket must be launched in order to reach its target. If the launch time is missed, the rocket has to wait for the next window.
Because Chang'e-3 blasted off at the best time within its launch window, there will be no need to correct its trajectory before it enters the preselected orbit. It also allows for fuel to be saved during the orbital transfer, according to sources at the launch center.
The mission is the second phase of China's three-stage lunar program, which includes orbiting, landing and returning to Earth.
It follows the success of the Chang'e-1 mission in 2007 and Chang'e-2 in 2010, and is the first moon lander to be launched in the 21st century.
After entering lunar orbit, Chang'e-3 will go through six stages of deceleration before the final descent begins 15 kilometers above the moon's surface.