Treacherous conditions
"The snow just kept falling and there was no time for the sanitation workers to clear it away," said Zhang Changhua, who added that until Wednesday night only a few main roads in Harbin's downtown had been swept clean.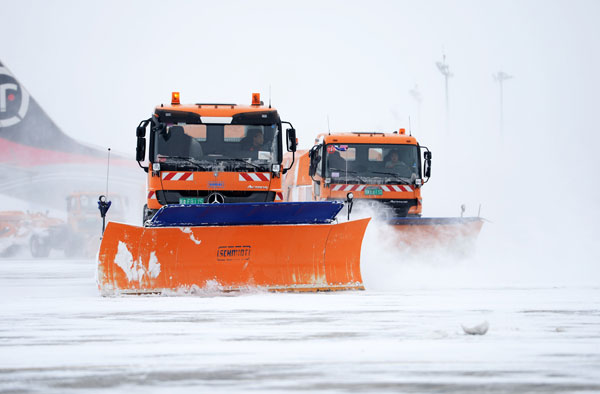 Snow plows working at Taiping International Airport in Harbin, which has remained operational despite the harsh conditions. [Photo/Xinhua]
It was frustrating to see the snow everywhere, said Zhang Qizheng, the nephew of Zhang Changhua. According to the third-year student at Harbin Engineering University, the hours of darkness were treacherous because of a combination of deep snow and extremely limited visibility.
Schools were closed for a couple of days and hundreds of trains and flights were cancelled. More than 50,000 people, including local residents, police and volunteers, were mobilized to clear the roads, according to Xinhua News Agency.
"It's often the case that public transport is paralyzed and normal life is greatly affected when rain or snowstorms hit hard," said Yuan Hongyong, deputy director of Tsinghua University's Center for Public Safety Research.
Harbin's 12,000 sanitation workers worked alternate shifts around the clock in an attempt to clear roads and pathways and keep the city moving. On some roadsides, the snow was piled to a height of three meters. The conditions made movement difficult, which meant that some of the sanitation workers were unable to return to base and had to eat their meals outside.
"I'm happy I'm tall. If not, I would probably be buried in the snow," said Yue Yong, a civil servant in Harbin. "It's as though the entire city is paralyzed."
On a normal day, Yue's 5-kilometer bus journey to work takes 60 minutes door to door, but in recent days, the one-way trip has taken four hours.
"Of course the weather has exposed some weak points in the city's management and infrastructure. We need to try to minimize both casualty numbers and the economic loss caused by bad weather, but we don't have the ability to prevent it happening. Our research into weather systems and climate change is still very limited, so we are unable to accurately predict when bad weather will occur or how much damage it will cause," said Yuan.