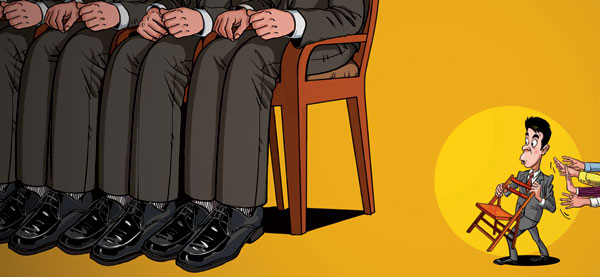 Song Chen/China Daily
Authorities outline policies for restructuring and transformation, Jiang Xueqing reports in Beijing.
China will allow the establishment of private banks and other financial institutions funded by private investment on a trial basis.
The government made the announcement after the State Council formulated policies to support economic restructuring, transformation and upgrading.
Shanghai Securities News reported on Wednesday that the China Banking Regulatory Commission has asked provincial governments to make plans for the establishment of private banks and submit their plans to the commission.
Insiders said a proposal made by a province in eastern China suggested minimum deposits of 500,000 yuan ($82,000). The suggestion could protect deposits by members of the general public from potentially high risks, but may also discourage private enterprises from opening banks.
On Sept 16, Zhou Xiaochuan, governor of the People's Bank of China, published an article in Qiushi Journal calling on the government to relax restrictions on private investment entering the financial market, and to support the establishment of private banks.
Zhou also emphasized the importance of introducing an insurance system for deposits to create a fair competitive environment for financial institutions.
Yang Tao, a researcher at the Institute of Finance and Banking at the Chinese Academy of Social Sciences, said: "The government should adopt the following principles on the development of private banks: In terms of ownership, private investment must hold a controlling interest in the banks; in terms of management, the banks must build their internal power structures independently, operate independently, and assume full responsibility for their profits and losses. In other words, only privately owned and managed banks are real private banks."
By the terms of Yang's definition, the number of private banks in China is limited. Despite years of market-oriented reforms, only China Minsheng Banking Corp has the basic features of a private bank. Moreover, only a small number of city and rural commercial banks are privately controlled and have broken away from local government intervention, said Yang.
Although the China Banking Regulatory Commission has yet to issue detailed regulations for private banks, China Business News recently reported that one unnamed local government has already provided the commission with a draft document on the supervision of the pilot private banks. According to the draft, the founders of a private bank must provide 500 million yuan ($82 million) to 1 billion yuan as registered capital and the number of shareholders should not exceed 20. In addition, the largest shareholder and related parties will only be allowed to hold shares equivalent to no more than 20 percent of the bank's total share capital.
A short account of a long tradition