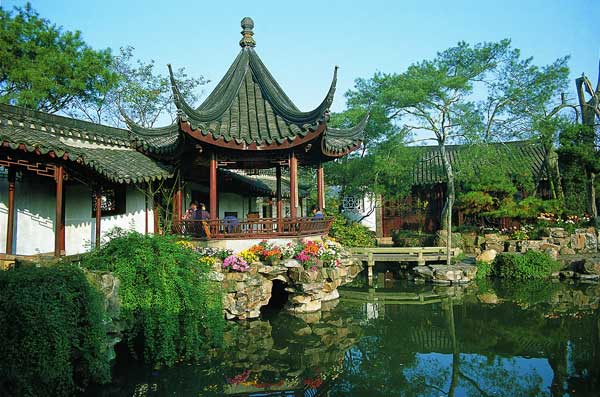 A section of the Master of Nets Garden in Suzhou, Jiangsu province, is revived in the Ming Xuan classical Chinese garden at the Metropolitan Museum of Art in New York. PHOTO BY LOU QINGXI FOR CHINA DAILY 

The beauty of classical designs casts its influence on modern architecture beyond China, reports Peng Yining.
When he was designing the garden for architect I. M. Pei's Fragrant Hill Hotel in Beijing in 1983, Liu Shaozong could see the image of classical gardens in Jiangsu province in his mind.
Liu first saw the gardens in 1952, when he was a senior student at the architecture school of Tsinghua University and went to Jiangsu to sketch historical sites.
"The gardens were small but amazingly beautiful. I ran out of room in my sketch book to record everything I saw," Liu said. "So when I. M. Pei asked my opinion on the hotel's landscape design, I immediately thought of the classical gardens.
"They just popped into my mind, even 30 years after I had first seen them," said the 81-year-old landscape designer who is based in Beijing. "I am still stunned. The beauty of classical Chinese gardens is not diminished by time. Even better, they still inspire architects and designers today."
Related reading:

Architectural elements of classical design in Jiangsu 
Classical gardens in Jiangsu province were mostly built adjacent to private residences. The past owners of the gardens were usually retired government officials, who took the natural landscape as their model for creating artistic garden scenery. They would invite the social elite to gatherings in their gardens.
The gardens were therefore, in effect, a continuation of the living space, which gave rise to the practice of a lifestyle of leisure and refined pursuits sought by intellectuals.
This preference featured idealized routines of daily life, including reading, painting, writing and reading out poetry, playing music, tasting tea and wine, playing chess and banqueting.
The practical nature of garden living hence required the gardens to be functional with architectural structures of a great variety, all designed to be in tune with the grace of the natural landscape of the garden.
As such, the crafting of classical gardens was designed to create a utilitarian as well as aesthetic living space where the natural and manmade worlds were closely incorporated. The following aspects were all considered: >>>

Located in the leafy mountainous area of Beijing's western suburbs, the Fragrant Hill Hotel features whitewashed plaster walls and dark gray clay tiles, as used in traditional construction all over Suzhou, which is famous for its centuries-old private gardens.
Pei came from a prominent family in Suzhou and he spent a few years during his childhood at his family's estate, the Lion Grove Garden, one of the most famous classical Chinese gardens and a UNESCO World Heritage site. "Living in a classical garden did have an influence on Pei's work," Liu said. "The gardens also inspired me to build the same style landscape to match Pei's hotel."
Liu built a pond in the middle of the garden, and said such ponds were commonly used in classical Jiangsu gardens to visually widen the space using reflections on water. He also copied the Guan Yun Feng, or Cloud Capped Peak, his favorite rockery in Suzhou's Lingering Garden, and named it Guan Yun Luo Ying, which means the shadow of Guan Yun Feng.
The hotel won a National Honor Award from the American Institute of Architects in 1984 and its garden has become a symbol of the complex.
"The hotel is a typical combination of modern technology and the essence of Chinese vernacular architecture," Liu said. "That combination is now widely accepted, both domestically and abroad."
On a misty morning in early September, huge pine trees at the Humble Administrator's Garden, another UNESCO World Heritage site in Suzhou, still dripped after an early rain.
There weren't many visitors to the garden, whose name is derived from the famous poetic phrase, "a humble way of being an administrator".
The air was filled with the pleasant aroma of sweet osmanthus, the city flower of Suzhou.
Surrounded by pavilions with curved rooftops, small stone bridges and verandas, lotus flowers floated in the central pond. Raindrops rolled on the lotus leaves as the morning breeze blew, some dropping into the water and startling the golden carp.
The weather was cool and only the chirp of cicadas reminded visitors that summer had not yet ended.
"The garden is very, very Chinese," said Sarah Loren, a 56-year-old tourist from the United States. "It is small but pretty. Living here must be good for the soul."
Built during the 16th and 17th centuries of the late Ming (1368-1644) and early Qing (1644-1911) dynasties, Jiangsu's gardens represent the elite of classical Chinese gardening and served as a prime exemplar for their northern counterparts, the Ming and Qing imperial gardens, according to Lou Qingxi, director of the ancient architecture research center at Tsinghua University.
He said the city of Suzhou inherited the largest and best-preserved collection of gardens and it could be called the city of gardens.
Lou said the classical gardens are works of art. "Walking in the Humble Administrator's Garden is like taking a stroll through a painting," he said. "And the painting changes as the weather and season varies."
The typical gardens in the region are small in scale but adorned with picturesque scenery of steep cliffs and deep gorges beside clear streams and emerald pools, Lou said. The best garden should have such architectural elements such as hills, ponds, pavilions, halls and verandas laid out in a way that offers ever-refreshing, enchanting and kaleidoscopic scenes that do not fall into any pre-existing norm.
"Building a garden is like writing a poem. A really good poem will be appreciated for hundreds, even thousands of years, and so will a garden," he said. "People admire a pretty, well-designed pavilion which was built 500 years ago. This is why the centuries-old art of classical Chinese gardens is still accepted and copied today."