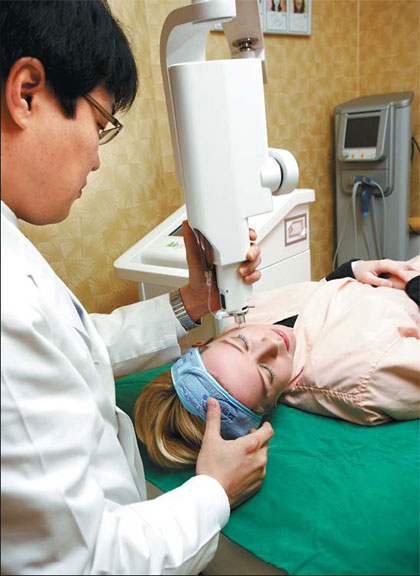 Plastic surgery costing between $2,500 and $3,000 is the most popular with Chinese. Provided to China Daily
Increasing numbers of Chinese are heading to South Korea for plastic surgery, but this may soon change, as He Na reports.
In the eyes of Sun Shuang's friends and colleagues, she is an attractive woman with virtually all the attributes needed to live a happy life.
The 30-year-old, who uses an alias, lives and works in Quzhou, Zhejiang province, is tall, slim and the mother of a 2-year-old boy.
Her husband loves his family. They both have decent jobs with good salaries and own a large, well-decorated apartment and a car bought by their parents when the couple married.
Before giving birth, Sun was highly confident and extroverted, but afterwards became a little depressed and didn't like talking or even going shopping with her friends, an activity she used to enjoy. When she went out, she walked with her head down.
Sun did not explain the reason for the change in her behavior to anyone, apart from her husband. It turned out that Sun's breasts - a little small before she gave birth - became much smaller after she breastfed her son.
Her husband said he didn't mind and loved her more than ever. But Sun said she wanted to undergo breast surgery in South Korea. Afraid that her symptoms may develop into deep depression, her husband gave his approval.
With the help of a Shanghai-based website that organizes plastic surgery and sightseeing for Chinese in South Korea, the operation was a success.
"The shape and feel of my breasts is pretty much the same as real ones. Even my husband says that I look better and I am more confident than before," she said.
In recent years increasing numbers of Chinese have opted for plastic surgery in South Korea to improve their appearance, significantly stimulating development of the country's plastic surgery tourism industry, a high-revenue earner each year.
Data from the Korea Health Industry Development Institute show the number of customers traveling to the country for medical-care tourism has risen steadily in recent years. The number of short-term customers (less than 15 days) rose to 150,000 in 2012, some 30,000 more than the year before. Customers from China led the way, followed by those from the United States, Japan, Russia and Mongolia.
"Medical-care tourism, which combines medical treatment such as plastic surgery and physical checkups with sightseeing, has injected new blood into the two industries, not only creating more jobs that stimulate our economy, but also cultivating more professionals and driving the development of related educational industries," said Kim Se-mann, executive director of the medical tourism department of the Korea Tourism Organization.