The theft and sale of personal information taken from the Internet and mobile devices has prompted calls for tougher laws, as Hu Yongqi reports from Beijing.
Sun Feng was woken by a phone call at 3 am. Although he had been roused from a deep sleep, Sun did his best to answer politely because he thought it might be an emergency call from a friend. However, all he heard was some women and children screaming in scary "ghost voices". "Go to hell," he told them angrily and cast the receiver aside.
Sun, distressed to receive the same prank call for the next four nights, eventually became so angry that he called the police. However, upon inquiry the number proved to be invalid and unreachable.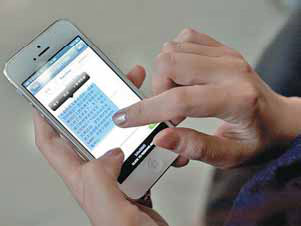 Receiving 'cold calls' or texts from real estate developers and insurance companies is an everyday occurrence for some Chinese people. Kuang Linhua / China Daily
"I rarely leave my phone number with strangers. However, I did when I registered on a shopping website last month," said the 27-year-old law firm employee from Beijing's Chaoyang district. He wondered if the number might have been disclosed during the registration process.
To prevent the irritating calls, Sun installed an intelligent interception application on his smartphone. However, because the terms of the contract he signed authorized the service provider to access his contacts and other information in the phone, he received even more calls.
In the week that followed, Sun received a dozen "cold calls" every day from real estate developers and insurance companies. "It was very annoying to get calls from people I didn't know, and didn't want to know, because I had no need of their products," Sun said.
So far, he has been unable to discover the identities of his malicious harassers, but one thing is certain - his personal information is no longer private. According to Beijing Times, a dozen residents in the capital also received the same late-night call and felt powerless to stop it.
The sale of personal information is an important source of revenue for some "brokers", according to experts. Last year, 31 people suspected of illegally trading personal information were arrested in Shanghai. Since February 2012, the Ministry of Public Security has held three nationwide campaigns to crack down on the illegal trade, arresting 500 brokers in the process.
"The crime of selling private information is like a pyramid - some industry insiders illegally sell information to brokers, who establish a platform for the next buyers. With this data, suspects unlawfully make money by pushing the information on to a higher level at a higher price," said Liu Ancheng, director of the criminal investigation department of the Ministry of Public Security, quoted by Xinhua News Agency.
Experts said the adoption of legislation on personal information protection must be accelerated to prevent a further deterioration in security.
Database storage
Zheng Peng, a 39-year-old bank employee in Beijing, was frustrated at having to answer at least 10 cold calls every day. He was desperate to change his mobile number, but given the inconvenience of contacting hundreds of business and personal contacts and alerting them to the change of number, he decided to abandon the idea.
He remembered that he had registered with several real estate agencies a few months ago, as he was looking to sell his apartment and move to a new place. "In the last three months, I have not left my mobile number or other personal information with any companies," he said.


Related:
Software testing a crucial defense