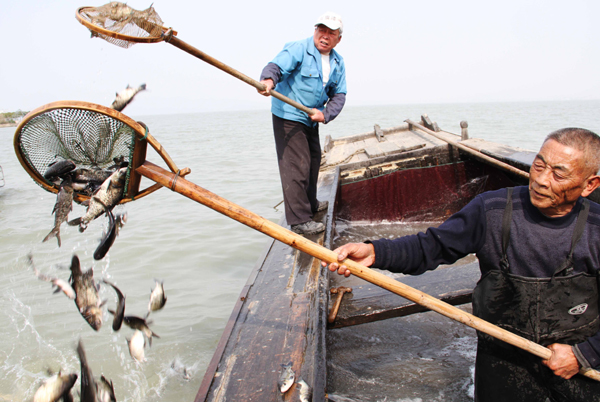 Fishermen in Suzhou, Jiangsu province, introduced more than 15 million fish into Taihu Lake earlier this month. The prevention of serious pollution has required huge efforts from local authorities and lakeside residents. [Photo/Xinhua]
Algae choking freshwater supply triggers campaign against pollution, report Xu Taotao, Wang Zhenghua in Zhejiang and Jiangsu.
When Zhang Yan spoke of a "happy transformation", the native of Huzhou in Zhejiang province was referring to recent changes in his life and the environment of his hometown.

Six years ago, Zhang worked as a chef at a restaurant on one of the 24 private vessels floating in a harbor on the southern shore of Taihu Lake, one of China's largest freshwater bodies.
These vessels, along with hundreds of families living on the water, discharged untreated sewage directly into the lake every day.
When combined with other contaminants, such as industrial waste and fertilizer residue from farms, the southern part of the lake was badly affected by eutrophication.
This sees excessive levels of nutrients encourage the growth of plant life, especially oxygen-sapping algae. It can prove fatal to the aquatic environment.
On a typical summer day, foul-smelling blue-green algae blanketed a large swathe of the 2,338-square-kilometer lake, the source of drinking water for roughly 30 million people in nine cities across the provinces of Jiangsu and Zhejiang, and Shanghai.
"It was a very ugly scene," recalled Zhang. "It was as though there was a thick layer of green oil paint, dotted with all kinds of household rubbish, floating on the surface. The algae rotted and turned dark quickly, and gave out a strong smell of decay."
The colossal flow of pollutants from almost every direction outpaced the government's clean-up drive, and eventually led to a massive outbreak of algae in 2007, prompting the local authorities to employ serious measures to tackle the problem.
In Huzhou, on the lake's southern shore, a program was launched to restore the ecological balance. The measures undertaken included relocating the fishermen, and redeveloping the area around the lake.
Now 38-year-old Zhang works in the same area as a kitchen manager at a neat lakeside restaurant in a peaceful tourist resort.
Related: