Opening the doors
China has become more open to foreign sinologists during the past few decades, said Alitto. When he first arrived in Zouping county in Shandong province for a field study in the 1980s, the local government was so wary that it told villagers to be careful about talking to the foreigner.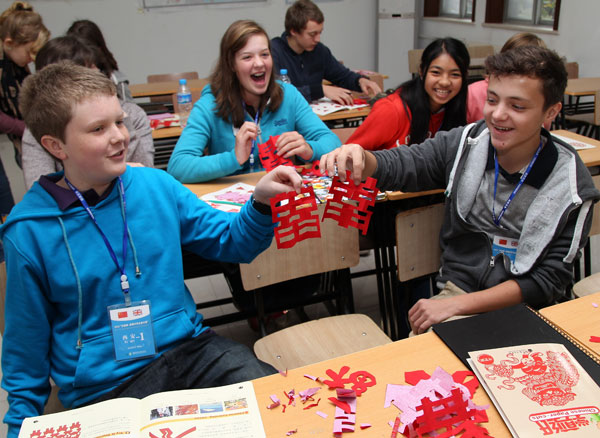 Some British children learn how to make paper cuts at a Chinese culture summer camp in Xi'an, the capital of Shaanxi province. Yuan Chen / for China Daily 
"I didn't know people were avoiding me, until a boy pointed at me and shouted 'That's him!' before he ran off," said Alitto.
In 2012, he delivered a lecture on the Chinese philosopher Liang Shuming and Confucianism, at Beijing Foreign Studies University. When he walked into the lecture hall, applause and cheers burst from the 500-strong audience, so Alitto made a bow with his hands folded in front, a traditional Chinese way of greeting people.
Unlike the old days when he was a student, even some high schools in the US teach Chinese now and people can easily visit or live in China. The digitalization of libraries has also made international research much easier, he said. Before, he had to travel from Chicago to Taiwan to study a document that is now available at the click of a mouse.
A lot of academic research conducted by Chinese scholars has been prompted by foreign sinologists, such as work on the Dunhuang manuscripts, a number of religious and secular documents discovered in 1900 in caves in Dunhuang city in Gansu province, according to Gu Jun, a professor of history at the China Research Center of Overseas Sinology.
Gu said foreign sinology also brings new ideas and methodologies. For instance, some overseas observers don't lavish as much praise on the author Lu Xun as Chinese scholars do. Others debate the gender of Jia Baoyu, the main character in A Dream of the Red Mansions, one of China's four classic novels.
Meanwhile, some analyze the Analects of Confucius from a feminist angle. "In the famous Confucian saying, 'If three of us are walking together, at least one of the others is good enough to be my teacher', feminists will ask if there was a woman in the 'three', but Chinese scholars would never ask a question like that," said Gu. "It's hard to question the classics if you have never thought you were able to. I am not saying all of their ideas are right, but they have encouraged Chinese scholars to think outside the box through the new sociological research methods they've introduced," he said.
Without the language barrier, Chinese scholars enjoy an obvious advantage, but they still need to learn from foreign experts and undertake rational criticism. The past decade saw a development whereby the world paid attention to China and in turn China promoted its culture, he added.
First founded in 2004, Confucius Institutes can now be found in more than 100 countries and regions and have more than 500,000 registered students across the world.
In the past five decades, China's Foreign Language Press has published approximately 20,000 books, ranging from novels and politics to scholarly research, in 43 languages in more than 100 countries, around 40 million copies in total.
"I am worried that people are paying too much attention to China's booming economy, rather than its history, culture and traditions. Most students turn to China in search of better opportunities. But once the economic boom stops, Chinese studies will decline," said Gu.
Ralph Weber, a senior researcher and lecturer of Chinese philosophy at the University of Zurich in Switzerland, said China's economic success should not be the only reason for people to study it.
"It's just like when Japan's economy was stronger, Japanese studies boomed for a while. Before that, there were few non-European history classes in Switzerland, but now we have many. This is a major change and a healthy development," he said.
He said sinological studies were conducted worldwide before China achieved its current position and so it's incorrect to say a culture is only worth studying because it is powerful. "People shouldn't be utilitarian," he said. "Other cultures, like African culture, are worth studying, even if no one says they are on the rise."
Contact the reporter at pengyining@chinadaily.com.cn
Related:
How to become a China specialist