New monitoring systems will give a better indication of pollution, report Wu Wencong and Jiang Xueqing in Beijing, and Qiu Quanlin in Guangzhou.
While Friday's airborne pollution in Beijing became a hot topic on China's online social networks and in newspapers, the environmental authorities insisted they are taking measures to contain the problem.
"Beijing has finished framing regional measures to jointly prevent and control air pollution within Beijing, Tianjin and Hebei province," said Yu Jianhua, head of the atmospheric environment management office of the Beijing Environmental Protection Bureau.
According to the Beijing Municipal Environmental Monitoring Center on Friday, trial readings of PM2.5 - particulate matter smaller than 2.5 micrometers - from most of the city's 35 monitoring stations exceeded 300 micrograms per cubic meter. The readings hit level six, indicating the highest level of pollution, four times the national standard.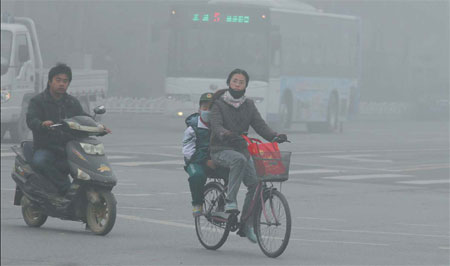 A heavy haze covers Langfang, Hebei province. Experts say the main sources of air pollution in autumn and winter time are coal-fired power plants, heavy industry and diesel-powered automobiles. Zhu Xingxin / China Daily
Medical experts say PM2.5s are responsible for a range of conditions: Short-term exposure can result in sore throats and coughs, while prolonged bouts are thought to contribute significantly to reduced lung function, coronary disease and premature deaths.
Official data suggest that about 25 percent of the capital's atmospheric pollutants blow into the city from nearby heavily industrialized regions.
Yu said the new measures are part of a long-term joint project among several regions to clean up air pollution nationwide. The project was established by the Ministry of Environmental Protection and details will be released by the end of the year. However, no date for implementation has been announced.
Few residents of China's larger cities are unfamiliar with air pollution, especially during autumn and winter, when low-hanging mist shrouds buildings in an impenetrable gray cloak.
In 2010, researchers Aaron van Donkelaar and Randall Martin of Dalhousie University in Canada used NASA satellites to create a map showing that the highest levels of PM2.5 occur across a belt of land stretching from North Africa, where desert winds disturb huge amounts of dust, to eastern China, a heavily industrialized region.
Since early October, Guangzhou, the capital of Guangdong province, has been covered by a pall of dust and haze.
The main sources of air pollution in cooler weather are coal-fired power plants, heavy industry and diesel-powered automobiles, according to experts.
"The effects of these sources are often worse in wintertime when pollutants are trapped near the ground because of poor vertical mixing," said Richard L. Corsi, a professor in the engineering department at the University of Texas who researches indoor air quality.
The weaker sunlight and lower temperatures near the ground, caused by fog in autumn and winter, keep pollutants trapped closer to the surface of the earth, he said.
Increased air travel
In addition to the weather, pollutants discharged at airports are also adding to the poor air quality, especially the prevailing haze over Guangzhou, according to Wu Dui, who lives in the city and specializes in haze research.
"The number of pollutants discharged by aircraft has risen in recent years, in line with the increased number of flights in the Pearl River Delta," he said.
Guangzhou's Baiyun Airport is one of the few in China capable of handling the world's largest passenger aircraft, the Airbus A380, which uses around 2 tons of fuels during take-off and landing. That's equal to the total emissions of more than 1,000 autos, said Wu.
As one of South China's most important manufacturing hubs, the Pearl River Delta has airports at Guangzhou, Shenzhen, Zhuhai, Zhanjiang, Foshan, Meizhou and Shantou. "There are just too many airports concentrated in a tiny region," said Wu.
Sources at Guangzhou Baiyun said the airport handled 183,400 aircraft arrivals and departures and more than 23.5 million passengers in the first half of the year. Both the sorties and passenger numbers rose by more than 7 percent from the same period a year ago.
"The smoggy days in the delta region will remain until April if there are no strong winds from the north to help disperse the haze and dust," said Wu.