Meeting focuses on perils facing the global economy, report Lan Lan and Wu Jiao.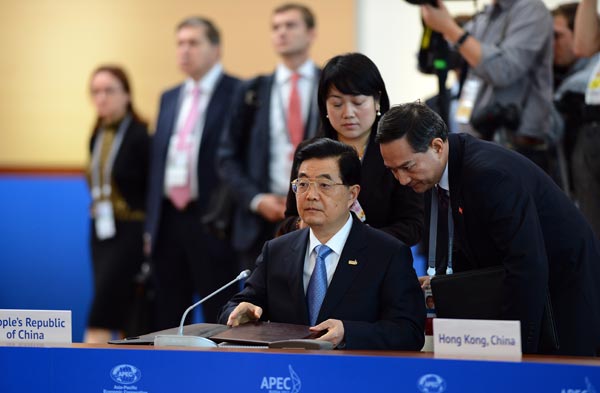 President Hu Jintao attends a roundtable meeting at the Asia-Pacific Economic Cooperation forum in the Russian port city of Vladivostok on Sunday. Saeed Khan / AFP
Leaders of the Asia-Pacific Economic Cooperation economies on Sunday pledged to support growth, foster financial stability and restore confidence in the region, in the face of downside risks to the global economy.
The 21-member forum issued a declaration outlining its main areas of interest at the two-day APEC Economic Leaders Meeting, held in the eastern Russian city of Vladivostok.
"Robust international trade, investment, and economic integration are the key drivers of strong, sustainable and balanced growth," said the declaration, under the theme of "Integrate to Grow, Innovate to Prosper."
President Hu Jintao urged APEC to advance in a spirit of unity, as grave challenges to the global economy continue to affect the Asia-Pacific region.
The region needs to be open and cooperative to secure growth and advance the process of regional economic integration in an incremental way, he said.
Hu also urged the community to place greater emphasis on tapping the development potential of emerging markets and developing economies.
The leaders reaffirmed their commitment to the liberalization and facilitation of trade and investment in the Asia-Pacific region, a key issue highlighted at the forum.
Following Russia's entry into the World Trade Organization in August after two decades of negotiations, all APEC economies are now WTO members.
The leaders reaffirmed their commitment to strengthening a multilateral trading system, pledging that they would push forward the WTO's Doha Round of negotiations.
They also agreed to move more rapidly toward market-determined exchange rate systems and improve exchange rate flexibility to reflect underlying fundamentals.
China has maintained a relatively stable exchange rate for the yuan during recent months, a move that has benefited the global economy, said Zhang Jianping, a senior researcher at the Institute for International Economic Research, a think tank under the National Development and Reform Commission.
"China has performed much better than many developing countries in keeping its currency stable in the past few months, despite facing harsh pressure from declining exports," he said.
APEC leaders also agreed to promote green growth and seek practical, trade-enhancing solutions to address global environmental challenges.
In what was hailed as a "green success", they endorsed the APEC List of Environmental Goods upon which tariffs will be reduced to 5 percent or less by 2015.
Ministers from the member economies drew up a list of 54 goods likely to see a reduction in tariffs ahead of an informal meeting of APEC economic leaders.
Hu said the forum needs to consider the level of development and specific conditions of individual member economies, and advance the use of environmentally friendly products in an active, steady manner.
"We should strengthen the dissemination of environmental technologies, enhance capacity building and help developing members build capacity to develop environmental industries and achieve sustainable development," he said.
APEC leaders also touched on issues such as food security, the establishment of reliable supply chains and cooperation in fostering innovative growth.
They said they welcomed European leaders' commitment to taking all necessary measures to safeguard the integrity and stability of the eurozone.
Members' economic growth, trade and investment in the Asia-Pacific region are facing downward risks due to sluggish global economic growth, the lingering eurozone debt crisis and plummeting demand.
The Asia-Pacific region accounts for approximately 40 percent of the world's population, around 57 percent of world GDP and about 48 percent of global trade.
Some observers are concerned that China's slowing economy could deeply affect economic expansion throughout Asia, after the country's growth slowed to 7.6 percent in the second quarter, the slowest pace in three years.
China's economy faces notable downward pressure, with some small and medium-sized enterprises suffering, and exporters facing increased difficulties, said Hu in a speech on Saturday.
He pledged a raft of measures to keep the economy stable and robust, such as expanding domestic demand, adjusting the economic model and improving the management of inflation.
Economic growth among APEC members has been "fairly robust and resilient" in the first half of the year, despite a variable trade performance across the region during that period as a result of weak global demand and sharp falls in commodity prices, said Denis Hew, director of the APEC Policy Support Unit, the group's independent research arm.
Meanwhile, trade in the APEC region continues to outperform the rest of the world, according to new research by the PSU.
Growth in the nominal US dollar value of merchandise trade, or trade solely in goods, of APEC economies moderated to 4.6 percent in May. By contrast, the rest of the world contracted by 5.6 percent, said the PSU report.
It pointed out that economic activity in the APEC region is expected to remain relatively robust in the medium term, despite trimmed growth forecasts caused by increased uncertainty abroad.
The report suggested that a number of steps could be taken to help mitigate the likelihood that the economic growth and investment flows of APEC members could be significantly hit by downside risks.
The measures include reiterating a pledge to maintain free and open markets, renewing a pledge to withdraw existing restrictive measures and resisting any new protectionist measures to bolster global economic recovery.
President Hu also announced on Saturday that China will host the 2014 meeting of APEC leaders and related meetings.
"China wishes to take this as an opportunity to deepen cooperation with other APEC members and make a fresh and even contribution to development, prosperity and people's well-being in the Asia Pacific region and beyond," said Hu.