Sunday's fatal bus crash in Shaanxi province was the latest in a series of accidents that have claimed lives across China. Despite this, people continue to use the buses for a variety of reasons. Hu Yongqi and Wu Wencong report from Beijing.
At present, around 37,000 sleeper buses carry more than 1 million passengers on more than 5,000 routes across the country. Since January 2009, at least 252 people have been killed in 13 accidents involving sleeper buses.
Given the potential dangers and the history, why do people continue to take the risk?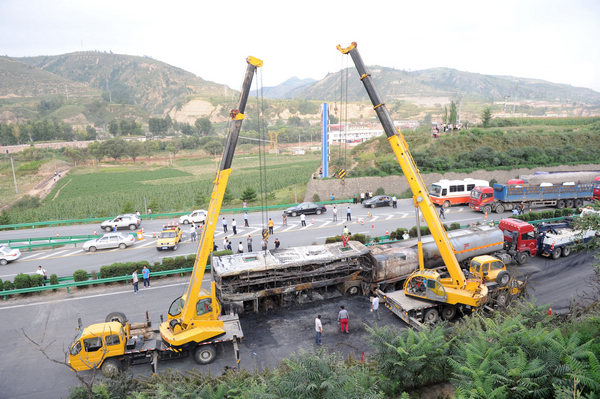 A sleeper bus crashed into the back of a tanker carrying methanol, a highly combustible liquid, on a highway in Yan'an, Shaanxi province, resulting in 36 fatalities and 3 injuries on Aug 26. [China New Services]
"You really don't think too much, not even about safety, when you have no alternative," said Cheng Zhonghong, a 26-year-old engineer who regularly traveled on sleeper buses in the Xinjiang Uygur autonomous region from 2004 to 2010.
Cheng recalled his first experience on a double-decker sleeper bus eight years ago, when he traveled from the Ili Kazak autonomous prefecture in the west of Xinjiang to Urumqi, the capital city.
There were three rows of bunk beds on the bus, each connected end to end. There were usually around 30 beds, he said. "The bed was really narrow, about the width of a chair, and the aisles between the bunks were even narrower. One had to turn sideways in order to move forward and it was impossible for two people to pass in the aisles."
Cheng said he was so scared that he barely slept during the 10-hour trip. "I was on the upper bunk and the bus was swaying wildly because about 200 kilometers out of the total 500 km route consisted of the twisting roads that cross the Tianshan Mountains," he said. "But after using the buses a number of times, I got used to it and slept for most of the journey."
Experts said that the convenience of sleeper buses and low ticket prices were the main reasons they remain popular, and that design flaws and driver negligence were the primary causes of accidents.
Market choice
Unlike Xinjiang, other regions in China have efficient railway systems, but people continue to use sleeper buses.
In April, Qin Menglong, a 31-year-old company sales representative, used her new car to travel to her hometown of Linhe district of Bayannur League in the Inner Mongolia autonomous region. She said she didn't miss the smelly, overcrowded buses at all.
Qin said ease of convenience has ensured that sleeper buses are the most popular form of transport for traders and migrant workers moving between Linhe and Beijing.
Every 30 minutes, the buses depart from Beijing and Linhe to the other end of the route. Wholesalers getting off buses from Linhe at around lunchtime throng directly to the markets in Beijing's Dahongmen area and rush to purchase all the commodities on their list before 4:30 pm to ensure they can catch the next bus home. The buses have large amounts of storage space for passengers' carry-on luggage, and traders benefit as their goods are unloaded outside their stores, meaning that they don't have the trouble of carrying loads from the station.
By contrast, rail transport is cheaper, but nowhere near as convenient. Every day, three trains reach Linhe at around 3 am, while three others arrive in Beijing around 3 pm. The timing is unsuitable for the traders and people heading to work in Beijing, said Qin.
Train tickets for the route cost around 150 yuan ($23.50), that's 100 yuan less than the cost of the bus, but the price differential fails to give the rail companies an advantage, because it's often extremely difficult to buy train tickets during peak travel seasons such as Spring Festival or the summer holiday.
Qin's husband Zheng Xing, 34, said he always remained awake when traveling by bus. "I always chatted to the driver to make sure he was fully alert and I reminded him of the potential dangers."
Drivers are key
Sleeper buses went into operation in China during the early 1990s when the country's rail network was underdeveloped and unable to meet the passenger demand, according to Wang Dongming, a researcher at the Institute of Comprehensive Transportation of National Development and Reform Commission in Beijing.
Some routes for sleeper buses entail hundreds of kilometers, with the longest - between Shanghai and the provinces of Sichuan and Guangdong - clocking in at more than 2,000 km.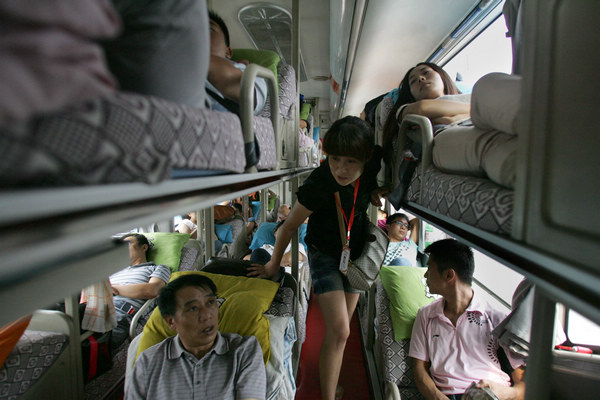 A bus company staff member explains the safety rules to passengers at Sanfuwan bus terminal in Xi'an, capital of Shaanxi province on Monday. Ma Jiewen / for China Daily
Wang said sleeper buses have a number of design flaws, meaning that the aisles are overcrowded and the emergency windows are often difficult to break. However, the driver is the key to safety.
Long-distance buses are required to have two drivers, who each take the wheel for four-hour stretches. But while the laws are fine in theory, in reality they are often ignored by bus companies in search of increased profits.
Wang Yicun, 34, from Yuexi county in Anhui province, drove sleeper buses for eight years. Before new regulations were introduced in 2006, local bus companies could double their ticket prices during the Spring Festival rush. During a single month, drivers could earn as much as 20,000 yuan - as much as they could earn in the rest of the year - so they worked as many hours as possible, even when they were exhausted.